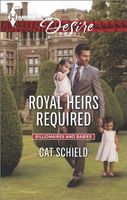 Series:
Billionaires and Babies
(Book 55)
Sherdana Royals
(Book 1)
A prince's surprise twins may turn his royal marriage into something more…
Prince Gabriel Alessandro's top priority is continuing the family line, and he's found the perfect bride-to-be in Lady Olivia Darcy. While their royal marriage is not based on love, he desires her. Making a baby together will be pure pleasure. Then Gabriel learns he is already a father…to twins.
Olivia surprises Gabriel with her acceptance of his motherless girls, making him believe their loveless union could blossom into something more. But Olivia's agreement conceals a devastating secret. In danger of losing the dynasty he so desires, will he risk choosing love over duty?
Very good book. As crown prince, it was time for Gabriel to marry and provide some heirs for the royal family. He selected Lady Olivia for two reasons. First, she has the pedigree, the sophistication, and also the kindness of heart to be the next queen. Second, her father is willing to open one of his factories in Sherdana, providing badly needed jobs. He's a little bitter about having to marry a stranger, but accepts it as necessary. Thanks to a failed relationship in his past, he isn't willing to fall in love, but the zing of attraction he feels for her gives him hope that there will be some pleasure to be found.
Then Gabriel is hit with a surprise. His ex-girlfriend has died and left him with custody of twin daughters he knew nothing about. He is somewhat concerned about the scandal, but more worried about how Olivia will react. He's amazed at how quickly and completely she accepts the little girls, which adds fuel to his hope for a successful marriage.
As a child Olivia had dreams of growing up to be a princess, but as a teen gave them up for the more realistic ones of simply having a husband and children of her own, and working with the children's charities that she loved. Marrying Gabriel is a combination of those dreams, but they haven't really spent any time together to get to know each other. I loved seeing her confront him and more or less force him to see her as the woman she was. It was great to see him start to realize that there was more to her than he had expected.
When she accidentally stumbles on the little girls, she takes to them immediately. I loved her first encounter with them and the protectiveness that she felt for them. I really liked the way that she supported Gabriel's intent to make their existence public. I really enjoyed the way the girls brought them closer together.
As they spent more time together, the attraction that they felt for each other grew stronger. Gabriel continued to try to convince himself that what he felt was only physical, but it was getting harder to do so. Olivia was also falling in love with him, but she has a health crisis that could end her dreams completely. A confrontation with Gabriel has them both exchanging harsh words, and their future looks impossible. I loved seeing both of them face their issues and decide what was more important to them. Gabriel's big moment was sweet and romantic and just what Olivia needed.
I liked the realism of the way Olivia's problem was portrayed and dealt with. I am looking forward to the other books in this series and hope that they will include updates on how she and Gabriel are doing. I also liked the two little girls, who were quite adorable. Their behavior was also pretty true to their age.