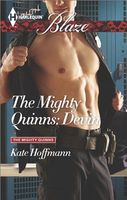 Series:
Mighty Quinns
(Book 31)
What was forbidden then...
has become irresistible now
The last thing police chief Devin Cassidy needs is for Elodie Winchester to return home and remind him of all he's been denied. But they're not teenagers now, and she's no longer a wealthy heiress. There's nothing stopping him from taking what he wants, what he's always wanted: her.
Elodie came home to deal with the Winchester mansion, the only inheritance she has left. She didn't expect to encounter a very grown-up Dev, or to want him as much as she ever did. He makes it clear that he's not going to let anything stand between them again. But in this town, name is everything. And to protect a Winchester, Dev will be forced to sacrifice his reputation...including his unexpected tie to the Quinn family.
Good reunion story with some added steam. When they were kids, Devin's mom worked for Elodie's parents as a maid. Her parents were the richest people in town, owned the mill where most people worked, as well as most of the stores in town. As teenagers, they had a secret romance, until her parents found out and sent her away to school. Not long after that, her parents went bankrupt, closing the mill and losing everyone's pension funds.
Years later, Devin is the police chief of the economically struggling town. He's fairly content with his life, watching out for the people of the town. Then Elodie returns to Winchester. Her plan is to sell the old mansion then return to her job in New York. When she and Dev see each other again, their lives are upended.
Overall, I liked Elodie. I loved the scene in the prologue, showing what a sweet kid she was and the beginning of her connection to Dev. When she returned to town, she was pretty sure she wasn't going to be welcomed with open arms, and she was right. I thought she handled peoples' attitudes with class and humor, as shown in the scene at the town picnic. Seeing Dev again reignited the old sparks, and suddenly she wasn't sure what she should do. Being with him brings back so many good memories, plus the heat between them is incredible. But she's also afraid of losing control of her life if she gets too involved with him. She has an idea for something to do with the house that could also help the town, but when she runs into problems, she won't let him help. I got really frustrated with her refusal to let him be part of her dream. I did like her determination to make it happen, and that she was finally able to let go of her fears and see that Dev wouldn't try to take control from her.
I loved Dev. He was a real sweetheart of a man. His love for the people of his town was evident in everything he did. It was terrific to see the lengths he went to in order to help the teenager Jimmy Joe. He had never forgotten Elodie, and having her back in town gave him an opportunity he wasn't gong to ignore. Now that the division of rich girl and maid's son no longer exists, he plans to pursue her. I loved the protectiveness he showed when some of the angrier victims of her father get in her face. I also understood why he was so upset when she didn't share her plans with him. I thought it was really sweet of him to want to help her make her dream come true when he found out about his inheritance. Her refusal was hard for him because of the way he cared for her, but he loved her enough to let her go for it on her own terms. I loved his "go big" moment at the end, and the scene with the trains was especially wonderful.
I also liked Dev's mother and the way she took care of Elodie and the house, even though she didn't have to. She also had a couple good "gotcha" moments with Dev, letting him know he wasn't fooling her about his feelings for Elodie. There was quite a surprise involving her and her past that makes a terrific lead in for the next book in the Quinn saga.