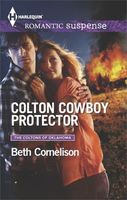 Series:
Coltons of Oklahoma
(Book 1)
A beautiful stranger appears at the Colton ranch during a party, and Jack is none too pleased. With ties to his ex-wife, Tracy McCain claims to be on a mission to bond with his son. But this intriguing widow also has a target on her back. As the Colton family brings Tracy under its broad wing, a relentless assassin puts everyone in jeopardy. Jack's protective instincts go into overdrive…and only fuel his secret attraction to Tracy. Living closely together under Jack's roof, the heat between them starts to sizzle. In fact, the only thing stronger than Jack's heady desire for Tracy is his will to keep her safe…so that one day they can become a family.
Very good start to the new Colton series. This one centers around Jack, the oldest of the Colton children, and Tracy, his ex-wife's cousin. Tracy shows up at the Colton ranch with one goal in mind - she wants to get to know her cousin's little boy, the only family that Tracy has left. Jack isn't too happy to see her, as he is very protective of Seth and doesn't trust Tracy's motives.
Jack had loved his wife Laura, but she hated ranch life. She left him, but turned custody of Seth over to Jack, knowing that he'd have a better life there. Jack was angry at what he saw as her desertion, and refused to allow her any contact with Seth, and has told Seth very little about his mother. Now that Laura is dead, Jack feels that everything is under control. Tracy's arrival has Jack concerned about what she might tell Seth, and also that she wants more than he's willing to give. He's determined to keep an eye on her, until she proves herself.
Tracy is the widow of an abusive man. Her cousin Laura had been the one to help Tracy get away from him, but lost her life in the process when he rammed their car with his own. Tracy feels guilty about what happened, and knowing how much Laura had loved her son, is determined to get to know him and tell him about his mother. Jack's attitude is an obstacle she has to find a way to overcome.
The initial meeting between Jack and Tracy was very volatile. Jack doesn't trust her, and wants her gone. Unfortunately for him, his sister gets wind of Tracy's presence and purpose and invites her to stay at the ranch. Having her constantly underfoot brings a new problem into Jack's life - his strong attraction to her. He has avoided any kind of relationships since Laura left, unwilling to trust his heart again and risk having it broken again. As they spend time together with Seth, Jack begins to see that he can trust her with his son, but is still wary with his own emotions. Tracy had also been hit with a strong attraction to Jack, but feels too guilty about her part in Laura's death to feel that she has any right to feelings about him. I liked seeing them bond over Seth, and start to build a cautious relationship. The chemistry continues to build, but Jack still resists admitting to his growing feelings for Tracy. He nearly loses everything due to his fears, before his sister and one of his brothers makes him see what he is doing.
The suspense of the story is good and has two parts. Tracy is the victim of attempts on her life. First someone pushes her off a curb into traffic, though there's no way to prove it. Jack becomes worried about her, but his protective instincts really kick in when someone takes shots at her and his son while they are on the ranch. Tracy can't imagine who would want to hurt her, especially now that her husband is dead. The suspense increases as she and Jack, along with his cop brother Ryan, try to find out who is behind it. I enjoyed seeing Jack stand up to his brother when it came to investigating a couple suspects. What they find out shows that Tracy is in even more danger than they expected, and keeping her safe could be a real challenge. The final confrontation is intense, and had me on the edge of my seat as I waited to see how it would turn out.
Second is a mystery that begins in this book, but is not resolved. While out riding, Jack, his sister and Tracy discover the skeleton of a baby has been dug up in the family cemetery. No one seems to know anything about it. There is also an attack made on the Colton matriarch that puts her in the hospital and it's unknown if it is related to the attacks on Tracy or if it is something else. It will be interesting to see how things play out in the following books.
This book also introduced the various members of the Colton family and touches on issues that each of them has. I have to say that, at first meeting, I really don't like the mother, who is cold and selfish. It is amazing that the younger Coltons have turned out as well as they have. I'm looking forward to getting to know each of them better in the coming books.