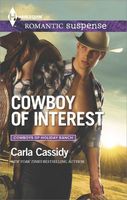 Series:
Cowboys of Holiday Ranch
(Book 2)
Determined to see ranch hand Nick Coleman jailed for her sister's murder, Adrienne Bailey introduces herself with a quick jab that leaves him black-eyed and bewildered. Still, the injured cowboy wants to prove his innocence and suggests they work together to find the real killer. Reluctantly, the grieving sister agrees.
As other credible suspects emerge, Adrienne's distrust of Nick turns to a surprising attraction. He's too handsome, and one night of passion awakens unfamiliar emotions for them both. But until they catch the killer plaguing the ranch, neither she nor Nick is safe.
At the end of the previous book,
A Real Cowboy
, a body and six skeletons were found under the floor of a shed that was being torn down. This made the ranch a crime scene, and each of the cowboys who worked there were persons of interest. When the body was identified as Wendy Bailey, Nick became more of a suspect because he had spent a lot of time with the young woman.
Adrienne Bailey arrived in Bitterroot convinced that Nick was the one who killed her sister. In her conversations and texts with her sister, Nick was a huge part of them. Adrienne is certain that Nick killed her in some sort of lover's quarrel. She confronts him by punching him in the eye, accusing him of murder and then walking away. Nick is stunned by her attack, and upset himself over his friend's death, follows her and tries to tell her that he's innocent. Adrienne is having none of it, certain that she's right. Nick finally convinces her that her best option is to work with him to find the real killer.
I liked Adrienne, though I got a bit frustrated with her tendency to jump to conclusions. It was obvious that she had loved her sister, though the two had had some issues. Their mother died when Adrienne was eighteen, leaving her to raise her younger sister. Adrienne had worried about Wendy's wild tendencies, causing her to be pretty strict, and creating conflict between the two. Now Adrienne is feeling guilty about those issues, and deals with it by focusing on finding the killer. Her distrust of Nick is logical to her because of what she believes, and she is reluctant to give that up, in spite of the number of people who tell her otherwise. When she is attacked by someone who is clearly not Nick, she has to finally admit that he isn't the one. That opens up a new problem, one of the attraction she feels for him.
Nick is one of twelve cowboys who came to Holiday Ranch as troubled teens. He had been abandoned by his mother when he was eight, spent years in foster homes, and was living on the streets when he taken in by Cass. His fellow cowboys are his family, but he keeps his heart well guarded. Besides wanting to clear his name, there is something about Adrienne that is starting to get to him. He feels protective of her after the attacks, and his attraction to her is growing every day.
Their relationship is an interesting one. It had quite an interesting start, with her attack on him. Once they got past that, they connected through their desire to find the killer and also through the stories they shared about Wendy. I liked the way that Nick was able to ease some of Adrienne's guilt. They tried to fight the attraction between them, because Nick had made it clear that there was no future in it. Even after he tells her about his past, he can't allow himself to let it go. Adrienne realizes her own feelings earlier, but believes that they are unreturned. I liked that she had the courage to tell him how she felt and that she knows he has the capacity to love if he'll just take the chance. Even after he nearly loses her, Nick still resists giving in to his feelings until it's almost too late. I did like the way he came through at the end.
The progression of the mystery was really good. I liked seeing Nick and Adrienne working together. They were a good balance for each other. Adrienne especially needed someone who could rein her in on occasion. She drove me a little nuts with the way she would suddenly decide one person was guilty, and focus on that person until it was proved they were innocent, instead of trying to look at the bigger picture. Her determination helped pull Nick along, even when he thought it was better to back off a little. The attack on her at the hotel, and later on them both outside the bar, had them thinking that they were making the killer nervous with all their questions. There were several suspects that were being investigated, and following the leads kept the suspense intense. I never got a feel that one was more likely than the other, and when the final confrontation came, it had a completely unexpected twist.
The mystery of who killed Wendy was solved, but the six skeletons are still an unsolved case. The local police chief has nothing to go on, and the arrival of the forensics doctor is adding to his stress. Not much progress is being made on the crime scene analysis. I expect more will be discovered in the next book. Meanwhile, the fate of the ranch is still up in the air as it remains a crime scene, and Cassie is anxious to get back to New York.