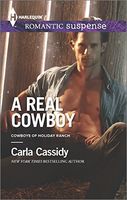 Series:
Cowboys of Holiday Ranch
(Book 1)
"I ride alone," cowboy Lucas Taylor warns New Yorker Nicolette Kendall. But when she and her son, Sammy, settle into Holiday Ranch, things are about to change for the sexy straight-shooting loner. After a frightening kidnapping attempt, Lucas becomes six-year-old Sammy's beloved bodyguard...while trying--in vain--to resist white-hot sparks between him and the boy's gorgeous city-slicker mom.
Nicolette can't deny the attraction either. But she's been heartbroken once too often and won't hitch her star to a cowboy interested only in a fling. Until there's a real danger to her own life...and heart Then will she trade her high heels for cowboy boots?
Good start to the series and nice mixture of romance and suspense. Nicolette and her son Sammy have arrived at Holiday Ranch along with her friend Cassie who inherited it when her aunt died in a tornado. The first person they meet is Lucas, one of the twelve cowboys who work the ranch. Sammy is immediately taken with "Cowboy Lucas".
Lucas came to the ranch when he was seventeen, after living on the streets of Oklahoma City for two years after his mother abandoned him. The owner of the ranch, Cass Holiday, staffed her ranch with young men she rescued, who she could train after her husband died. Cass and the other cowboys became Lucas's family. But as close as he was to them, he swore he would never open his heart to the risk of loss again.
Nicolette is also wary of involvement. She had married Sammy's father, then discovered that she had given her love to a man who didn't deserve it. Since their divorce he had never once expressed an interest in his son. For Nicolette, Sammy is her whole world, and she will do anything for him.
When they arrive on the ranch, Nicolette doesn't know what to expect. She's a little worried about Sammy's immediate attachment to Lucas, but it doesn't take her long to realize that he can be trusted. More worrisome to her is the attraction she feels for him, but since they aren't planning to stay too long, she hopes she can resist. When a masked stranger tries to kidnap Sammy, Lucas steps in to become his protector.
I loved Lucas. He is the epitome of the cowboy, honorable, considerate, kind and caring. Though he insists to Nicolette that he "rides alone" you can see that Sammy has become very important to him. I loved seeing Lucas give Sammy all the attention the little boy could possibly want from his hero. Lucas is also very protective of Nicolette, though he keeps insisting that it's only because it's the right thing to do. He admits his attraction to her, but that it's only physical. The problem is that he finds himself dreaming of a future he's too scared to go after.
I also loved Nicolette. She was a woman who had the strength of will to get herself and her son out of a bad situation. She's doing her best to give Sammy the best life she can. She's cautious when they get to Oklahoma, but it doesn't take her long to see all the benefits of their stay on the ranch. She's worried about her attraction to Lucas, because she sees how easy it would be for her to fall for him. When he saves Sammy from the kidnapper it pretty much seals the deal of her feelings for him, but she won't settle for just a fling. Especially when she has Sammy's feelings to worry about too. I really enjoyed seeing her change from city slicker to country girl and make some important decisions about what she wants from her life.
I loved the way that the relationship between them grew out of their mutual care and protection of Sammy. Being together as much as they were because of them gave them a chance to get to know each other pretty well. They become good friends and partners, even as they tried to resist their attraction. I liked the way that Nicolette saw Lucas's fear and understood it, but also knew that he was the only one who could overcome it.
The suspense of wondering who was after Sammy and why was really good. I could feel Nicolette's fear when the kidnap attempts were made, and Lucas's desperation to catch the kidnapper before he could get away. The obvious person didn't seem too likely because of his attitude, but couldn't be completely disregarded either. The end was very intense as the culprit finally made his move, but not the way I expected.
There was also the secondary story of Cassie's arrival on the ranch and her plans for it. She doesn't tell anyone on the ranch of her plans to sell for fear they will leave before it can be repaired. She is very much a city girl and can't wait to get back to New York. But in order to carry out her plans, she has to take the time to learn about the ranch, and the foreman Adam is the one to do it. You can see that there are hints that there may be something developing between them, but she has her mind set. As the last part of the repairs are prepped to begin, something happens that puts her plans on indefinite hold. I'm looking forward to the next book to see what happens with that. I have my suspicions of who might be involved with that particular problem, but only time will tell.
I also really liked the other cowboys who worked on the ranch. All of them were Cass's rescues. I loved seeing how each of them made Sammy feel so special, and how determined all of them were to keep him safe. With twelve cowboys on Holiday Ranch, I have high hopes that each will get his own story.