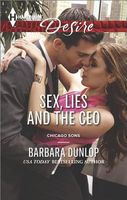 Series:
Chicago Sons
(Book 1)
After his ex writes a tell-all book, CEO Shane Colborn is battling a PR nightmare. The last thing he needs is an affair with another woman, especially one who works for him. But Darci Rivers proves impossible to resist.
Their passion is intense, but so is Darci's secret. She's out to discover a truth that could redeem her father's legacy -- and destroy Shane's company, taking him down with it. Will she do what she's come to do…and risk the once-in-a-lifetime connection she's found with her boss?
Good book. When Darci starts to go through her father's things after his death, she discovers a letter that claims his former business partner stole his designs and cut him out of the business. Now she wants to find the truth and redeem her father's reputation, and to do it she needs to get close to Shane Colborn.
Shane is in the middle of a nightmare. A former girlfriend has written a tell-all book that is full of lies and innuendos, and it's creating problems with his business. He needs to stay away from women and focus on saving his company. When he encounters Darci at one of his business parties there's something about her that he just can't resist.
Darci has a real problem when she meets Shane. Besides being incredibly attracted to him, she likes him. He's smart, he's funny, and he's got a sweet and romantic side to him. She also feels horribly guilty because of the way she's deceiving him, but she's not sure she can trust him with the truth.
Shane is just as attracted to Darci. He likes her down to earth attitude and the way she resists his attempts to seduce her. Having been burned by a woman who was out for what she could get, it's great being with one who is so open with him.
The chemistry between them is intense and as much as she tries to resist, eventually she gives in. By the time the truth
comes out, Darci and Shane have gotten really close. Darci has gone so far as to fall for him, and the guilt is killing her. She had just decided to confess when he found out. Shane is furious and hurt by her deception. He had started thinking that she was different and that they had something real together. But once he got past his initial reaction, he did something really different - he decided to help her look.
I loved seeing where their relationship went from there. Though trust had been damaged, the feelings they had for each other were still there. There was a terrific scene where Darci was determined to help counteract the effects of his ex's book, and I loved seeing what she did. I also liked seeing how Shane kept trying to believe the best about Darci, even when his friends were against it. I thought it said a lot about his feelings for her that he wanted her to find what she was looking for. There was a rough patch at the end when things didn't look too good, but everything worked out at the end. I especially loved Darci's last ditch effort and Shane's solution.