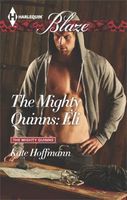 Series:
Mighty Quinns
(Book 30)
An X-rated adventure of a lifetime
Love of the wilderness runs deep in Eli Montgomery. The father he never knew, mountaineer Max Quinn, shared that passion for the untamed -- and never staying in one place for long. But surviving in the wild requires experience. So when Eli learns that a TV personality is spending the next year living in his grandmother's remote cabin for a reality show, Eli is convinced the woman will need his help.
Lucy Parker is determined to adhere to the strict guidelines of this challenge: no assistance. But the second Eli Montgomery shows up in all his rugged hotness, Lucy's craving for caramel lattes is immediately replaced by a much more primal, sensual hunger. And out here, no one will know if she breaks all the rules.
Good book that follows Eli Montgomery, half brother of the New Zealand Quinns. Though he never knew his father, Eli is very much like him. He is a restless soul who loves the challenges of the wilderness. He also has a great respect for the dangers it holds. When he found out that a woman was planning to spend the next year living in his grandmother's old cabin by herself, he was worried about what could happen to her.
Lucy has set herself the challenge of living by herself like the previous owner of the cabin. She has read Trudie's journals and has sold the idea to make a television show about it. The rules are that she gets no outside assistance, other than monthly deliveries of supplies. Her intentions are tested when the first delivery is made by Eli, Trudie's grandson. Besides being incredibly good looking, he is worried about her safety, something that Lucy has never experienced before. She is the product of foster homes and has learned the hard way that she can only depend on herself.
I loved Lucy's independence. She knows what she wants and has no trouble going after it. She may be a little overconfident in her abilities, but she has the determination to push through until she succeeds. She does see the sense in accepting Eli's advice on how to do some things, though she works very hard at keeping him from doing things for her. I really enjoyed seeing her accomplish the things she did, and have the feelings of satisfaction that came with it.
I really liked the way that their relationship built slowly. At first Eli kept to the once a month rule, but gradually started visiting more often. I liked the way that he understood what she was trying to do and supported her efforts. All the time that they spent together gave them the opportunity to really get to know each other. Though they had started out simply enjoying their physical relationship and not wanting any commitments, Eli began to realize that he wanted more. Lucy got really used to having Eli around, and that started to make her very nervous. Because of her past, she has no idea what love is like, all she knows is that she feels like she is changing and it scares her. She feels like she is losing sight of who she is.
When the television people cancel her project, Lucy is heartbroken at having to leave it all behind. Eli has offered to help her continue, but she's afraid that it would mean losing the heart of what she was trying to do. It isn't until she leaves it all behind that she begins to see the truth of what she feels. I loved the ending and seeing how Eli had the patience to wait for Lucy to work through her issues. I really liked how he had spent his time while waiting for her.
I also enjoyed seeing Eli come to terms with his own past. The surprise that he gets because he is a Quinn by blood also gives him the resources to give Lucy the help she needs, if he can get her to accept it. I loved the epilogue, the trip to Ireland, and the other surprise that was waiting for him there. I would have liked to see a reunion included in the epilogue.