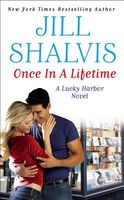 Series:
Lucky Harbor
(Book 9)
SOMETIMES WRONG IS OH-SO-RIGHT
After a wrenching loss, Ben McDaniel tried to escape his grief by working in dangerous, war-torn places like Africa and the Middle East. Now he's back in his hometown and face-to-face with Aubrey Wellington, the hot-as-hell woman who is trouble with a capital T. Family and friends insist she's not the one to ease his pain, but Aubrey sparks an intense desire that gives Ben hope for the future.
Determined to right the wrongs of her past, Aubrey is working hard to make amends. But by far, the toughest challenge to her plan is sexy, brooding Ben - even though he has absolutely no idea what she's done . . .
Can this unlikely couple defy the odds and win over the little town of Lucky Harbor?
Very good book. Ben is back in Lucky Harbor after years away, trying to outrun his grief. He had lost his wife and losing himself in work seemed the best way to go. When he runs into Aubrey he can't believe he's attracted to her. He remembers her from high school as the girl with the wild reputation. Aubrey is trying to live down that reputation. She's opening a bookstore that she'd like to have become a local gathering place. She's also trying to make amends to various people she feels she has wronged in the past.
I really liked Aubrey. First, I loved her plans for the bookstore. She loves books, but she also wants to use those books and her store to give a place for other people to connect with each other. She's also trying to repair her own reputation. While she was in high school she was rather wild and not a very nice person. Having recently stumbled into an AA meeting by accident, she is intrigued by the idea of making amends to people you have hurt in the past. She makes a list and begins going through it.
Ben has been asked by a friend to help Aubrey with the renovations to her bookstore. As he spends time with her, he realizes that her reputation may have been somewhat exaggerated. He likes spending time with her, but when he stumbles on her list he wonders why he is on it. I loved watching him help her with her list and seeing him getting closer to her. The attraction is strong, but she is definitely not his type, being nothing like his late wife. Even various people around town tell him that she's not the woman for him.
The romance that develops between them is pretty sweet. Aubrey knows she's falling for Ben, but the guilt of what she did to him tells her that there is no future for her with him. She knows she needs to tell him, especially once they start acting on their attraction, but she knows she'll lose him when she does. Being with Aubrey eases Ben's pain, but he's not ready to think of a relationship with anyone. I got a bit frustrated with Ben and the way he had put his wife and their marriage up on a pedestal, looking at it as the perfect life. It made it harder for him to move on with his life. I did like seeing the way that he got to know Aubrey and see that she wasn't as bad as people said. His resistance to his feelings made him a great target for his friends Jack and Luke to point out when he was being an idiot. Considering they had had their own moments of stupidity in their romances, I loved seeing them try to share their experiences.
I thought Aubrey had done a terrific job of getting her life back together. She had been involved in a scandal that wasn't her fault, but people are still down on her because of it. Her reputation in high school had come about because of the way she dealt with her family life. Her parents' divorce and splitting up of she and her sister had had a terrible effect on her. I thought she was pretty brave to be facing people she had hurt in the past, not knowing how they were going to react to her apologies. It was interesting to see some of those reactions. Her biggest fear was falling for Ben, knowing that he would probably not react well to what she had to tell him. I couldn't blame her for putting it off as long as she could. She also had another secret from her past that reared its ugly head, putting her new life at risk of failing before it even got started.
When the big reveal came, Aubrey's fears were realized. I felt so bad for her when Ben was so horrible. I wanted to shake him, or hit him with something, when he walked away from her. I liked seeing Lucille take him to task and point out some things he didn't know and that made a difference to what he thought he knew. His appearance at her grand opening and his "go big" moment was really sweet. Loved watching him grovel.
*copy received in exchange for honest review.