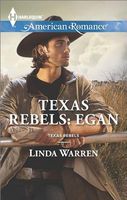 Series:
Texas Rebels
(Book 1)
Heart of a Hero
Big-city art instructor Rachel Hollister isn't back home in Horseshoe, Texas, for more than a few hours before she's lost and stranded in the woods surrounding Rebel Ranch. But Rachel's bad luck takes a sudden turn for the better when a ruggedly handsome cowboy manages to save her life, not just once, but twice, in the same day.
Rancher Egan Rebel can't resist helping someone in need, even an enemy -- or the daughter of one. It was Rachel's father who unjustly sentenced Egan to prison years ago. As attracted as he is to Rachel and her bright, creative energy, Egan can't forgive the man who stole his freedom. Can Egan let go of the past, or will he turn his back on the only woman he's ever loved?
Good story. Egan is the loner of the seven Rebel brothers, thanks to some time in prison for a crime he didn't commit. He prefers the open air and cattle to time around people. Rachel hasn't been home for twelve years because of memories she has been trying to escape. On the drive from the airport she decides to take the long way home to give herself more time and ends up lost and stranded when her car breaks down.
When Egan finds Rachel he can't just leave her there, even when he finds out who she is. As they try to make their way back to his ranch, Rachel is attacked by dogs belonging to Egan's neighbor and head of a family that has had a long standing feud with the Rebels. Egan saves her from the dogs and they hole up in a cabin for the night while Egan treats Rachel's injuries. Rachel sees past the tough ex-con exterior that Egan projects and considers him her hero and more. There's a strong attraction between them, but Egan doesn't want the complications of a relationship, especially with Rachel.
Once they are rescued, Rachel ends up unconscious in the hospital thanks to her injuries. Her father, believing Egan kidnapped Rachel in an attempt at revenge, has Egan arrested and thrown in jail. Once she regains consciousness Rachel sets the record straight. I loved the way that she stood up to her father and blamed him for jumping to conclusions.
Rachel has come back to Horseshoe in an attempt to face the memories that have haunted her. She blames herself for the death of her mother and hasn't been able to deal with the guilt. Talking to Egan has given her the courage to confess her feelings to her family. There turns out to be a lot more to the events of that day than she knew, and while her guilt is relieved there is now an additional strain with her father. Throughout it all, Egan is a source of strength for her.
The relationship between Egan and Rachel burns hot and fast. They had been attracted to each other from the start. Egan's care and protectiveness are obvious, but he considers his past too big an obstacle to overcome. When Rachel calls him on his refusal to look at the future, he takes a look at who he has become and doesn't like what he sees. His talk with her father was an eye opener for him and gave him a new perspective. Rachel also discovers that many of the things that she had believed can be viewed differently now that she's older and knows more of what was really happening. She realizes that Egan isn't the only one who has been hiding. I loved the ending and seeing Rachel help Egan face his fears and be ready for them to move forward together.