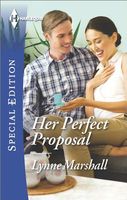 Series:
Secret of Heartlandia
(Book 2)
WRITING HER OWN HAPPY ENDING?
Journalist Lilly Matsuda just writes headlines; she doesn't make them. That is, until she runs afoul of Gunnar Norling while on assignment in the tiny town of Heartlandia. The handsome policeman intrigues more than Lilly's investigative senses…but she isn't going to let Gunnar's megawatt smile or smoldering good looks melt her heart.
Gunnar isn't a fan of people snooping around Heartlandia. He's been sworn to secrecy about the town's mysterious past, and he refuses to compromise that for anyone…even beautiful Lilly, who's hot on the story's trail. Besides, she's not going to stick around forever, and Gunnar refuses to let his heart get trampled on -- unless Lilly decides to put love first!
Good story of a small town with a secret and two people who have choices to make about that secret. Lilly has arrived in Heartlandia to work on the town's newspaper. She has dreams of finding a big story to break and eventually owning the paper. On her first day in town she's caught jaywalking by Gunnar the police sergeant who warns her about following the rules.
Gunnar and Lilly are two very interesting people. Gunnar has spent most of his life feeling as though he has to atone for the mistakes of his father, who was sent to prison when Gunnar was a boy. As a result, Gunnar tends to be pretty rigid about the difference between right and wrong. He finds it very difficult to trust people. Lilly is the only child of two very driven parents. She has always felt that she was a disappointment to her father, just because she wasn't a son, so she has done everything she can to earn his approval. He has always told her to keep her goals in sight and do whatever necessary to achieve them.
From the moment they met, Lilly and Gunnar are attracted to each other, but it isn't an easy relationship. Gunnar is used to women pretty much falling at his feet, and Lilly's resistance to his advances confuses him. He's so cocky about his appeal that I rather enjoyed seeing Lilly shoot him down on a regular basis. Lilly is attracted to him, but she has no intention of letting him distract her from her goal of finding out what the big secret is. His persistence eventually pays off and they begin to get to know each other, but their differing outlooks create some real tension between them. Both of them have to learn to compromise a little and open their hearts to trust. I loved the way that Lilly used the tea ceremony to show Gunnar how she felt.

*copy received in exchange for honest review.