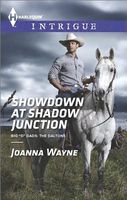 Series:
Big D Dads: The Daltons
(Book 5)
When Jade Dalton escapes a ruthless kidnapper on the trail of a multimillion-dollar necklace, she flees to the one place no one will find her: her estranged father's Texas ranch. Booker Knox is also on his way to Dry Gulch. After a potentially dangerous situation thrusts her into his arms, the navy SEAL appoints himself Jade's personal bodyguard.
It isn't every day Booker finds himself being kissed by a gorgeous stranger. Except Jade's a fugitive from justice who's also being hunted by a determined killer. Now Booker will do whatever it takes to protect the beautiful big-city event planner. Failure isn't an option. Neither is walking away when this is all over.
Good mix of romance and suspense. Jade is an event planner in New York and her latest job has been running a multi-city tour for a jewelry maker. On this night the man invites her to his suite before the show and shows her a beautiful necklace. They are interrupted by a delivery of champagne that turns out to be drugged. The next thing Jade knows, she's being held captive, the jeweler is dead and she's being blamed, and the kidnapper thinks she has hidden the necklace somewhere. She escapes the kidnapper, who is also a dirty cop, and unwilling to trust the police, heads to her father's ranch to regroup. On the way she meets Booker, who is also headed to the ranch, to meet the half sister he didn't know (she's married to one of Jade's brothers).
Booker's protective instincts are raised when Jade throws herself at him to escape the notice of those who may be looking for her. He doesn't know who she is at first, but once he hears her story he suspects that she's been set up. He's determined to keep her safe while the investigation goes on. It doesn't hurt that she's beautiful and the chemistry between them is pretty hot.
Jade is used to taking care of herself and not depending on anyone's help. Her mother is a bit of a drama queen and has been through multiple husbands. Her father, RJ, pretty much abandoned the family until recently, when he was diagnosed with a brain tumor. She's not inclined to forgive him, but she knows she will be able to hide out on the ranch for a couple days. She doesn't expect to find several of her half brothers there along with her father, or that all of them are determined to help her. She's not quite sure what to make of the previously unheard of family support.
I loved seeing Booker and Jade together. The attraction between them is strong, but neither is interested in a relationship. As a SEAL, Booker feels that he's a bad bet until he done with deployments, as constant separations are hard on relationships. He keeps his involvements light. Jade also avoids them as she hasn't had good examples and isn't ready to risk her heart yet. As they're thrown together Booker discovers that Jade is strong and independent, and she finds that it's comforting to be able to lean on someone else for a change. When all the fuss was over I loved the way they got to know each other while staying at the ranch. The ending was really sweet.
The suspense of the story was good. The big question was what had happened to the necklace. Jade's escape from the kidnapper was pretty intense. There was also her need to clear her name about the murder and theft. There were some pretty intense moments when Booker's bodyguard/SEAL abilities came in quite handy. Just when I thought that everything was over and done, a twist in who was after the necklace became apparent. That final confrontation was nerve wracking until it was all over.
I also enjoyed the continuing story of the reconciliation between RJ and his kids. I liked seeing RJ finding ways to help Jade through her trouble. She was pretty wary of all the family togetherness, but it was great to see the way her brothers stepped up to help. I'm looking forward to the next book.