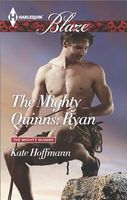 Series:
Mighty Quinns
(Book 29)
Surrender is the greatest sin
For adventure guide Ryan Quinn, a week in Fiji babysitting a hen party should be a cakewalk. Only, the bride turns out to be sexy movie star Serena Hightower, and the wedding turns out to be very much in question. Ryan wants to help Serena, but he's not sure he can trust himself with her -- not when she is his every temptation personified…
Serena Hightower just needs one week in paradise to figure out what she wants. Unfortunately, what she wants is the one thing she can't have -- the rugged and charming Ryan Quinn. Serena craves Ryan's touch, the haven of his arms. But to be with him, she'll have to risk her career and her future, not to mention his. If she throws it all away for the chance at happiness, will he do the same?
Another good entry into the Quinn family saga. Ryan is headed off to Fiji for an easy job. All he needs to do is provide some easy adventures and keep the movie star bride out of trouble. This one is outside the family adventure business, which mean that the fee Ryan earns will be all his. The family business is fine, but he has dreams of his own and the money will give him a good start.
But the job turns out not to be as easy as he expected. Serena is the only one of the women interested in leaving the side of the pool, which puts him in an awkward position. He's really attracted to her, and the feeling is mutual. He won't make advances to a client, especially one who is wearing another man's ring.
Serena has been looking forward to this week away from all the wedding hype so that she can figure out what she wants to do. She realizes that she doesn't love her fiance, and is sure that he doesn't love her, but this wedding has taken on a life of its own. Spending time with Ryan shows her that she could have so much more, if she has the courage to go after it.
I really liked Ryan's sense of honor. He has his own standards of behavior and he isn't going to compromise them. He sees the conflict that Serena is suffering from and offers her an ear to listen. When she reaches the point where she feels she has to get away, he takes her back to New Zealand with him. He'd like nothing more than for her to stay with him forever, but their lives are so different that he can't see it happening.
I loved seeing how happy Serena was while she was staying with Ryan. She had a chance to see what a normal life could be like. She also knew that she had unfinished business that she would have to face and decisions to make if she was going to have the life she wanted. Her feelings for Ryan finally give her the courage to take control of her life, and I loved seeing her do it.
Ryan had his own demons to face, such as his feelings about his father's death and the plans to visit the site of his death on Everest. There are secrets about his father that he's been carrying for a long time. He also has to face his feelings for Serena and decide if he can handle their differences well enough to have a chance for a successful relationship. I loved the fact that he had made his decision before the meeting with the "client" from Ireland made it so much easier. I really liked their negotiations once they were together again.
I loved the epilogue, and can't wait to see if there are going to be more Quinns found, or if there might be stories of the next generation of Quinns from the earliest books. I'd also like to see Dana Quinn get her own book.