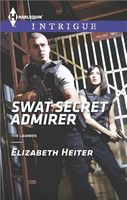 Series:
Lawmen
(Book 3)
A predator is no match for her protector…
It's been ten years since the attack that drove Maggie Delacorte to become an FBI SWAT agent. She's an elite fighter now -- and when the Fishhook Rapist sends her a letter saying he's coming back for her, she knows she has to find him first. Her teammate Grant Larkin is assigned to the case, and he's determined to protect Maggie, even if it damages the connection that's been growing between them. And even if her attacker has decided that the way to get to Maggie is by targeting the people she cares about. Her feelings for Grant could get him killed, but she needs him -- and his love -- to make it through the worst danger yet…
Terrific conclusion to the series. In the ten years since she was attacked Maggie has become an excellent FBI SWAT team member. She has never given up the hope of finding her attacker, who has struck again once a year ever since, always in a different city. For the last six months she's been receiving letters from him, saying that he's coming back for her. She is determined not to be a victim again.
Grant has been one of Maggie's teammates for nine months. He had developed an excellent friendship and working relationship with her, but he was also hiding his attraction to her. He knows that nothing can happen as long as they're on the same team. He knows about the Fishhook Rapist and Maggie's connection to him, but it hasn't affected the way he feels about her. When the task force working on her case asks for his help because of his work on a similar case, he's glad to help. He's determined to find this guy and keep her safe.
I loved seeing Maggie and Grant together. She has felt the same attraction to Grant, but like him, can't act on it. When he's assigned to help with her case, they are drawn together even more. I loved the way that he gave in so quickly to sharing information with Maggie and her group, even though he had been specifically warned against it. Maggie is very intense and driven and willing to do anything to finally get this guy. Grant is also intense when it comes to his work, but much more easy going outside of it. I liked seeing the way they balance each other. Their attraction is getting stronger, but both do an admirable job of keeping it under control, as neither wants to wreck the other's career. I loved seeing the relationship develop as Maggie got to the point where she allowed herself to lean on Grant for support instead of feeling she had to keep it all to herself. I also loved how Grant was protective while still trusting that Maggie can take care of herself.
I loved the suspense that had been building since the beginning of the series. In this one, it's finally time to face down the monster. I loved seeing how it was Maggie and Grant working together who were able to figure out who was behind the attacks. The tension really built as the date got closer and they tried to find him first. The way that the bad guy arranged the confrontation was pretty scary, but not a total surprise. I had a feeling she was going to be involved from the time she was mentioned. The confrontation itself was really intense and I wondered how it was going to be resolved. I liked the realism of what happened to Grant, scary as it was. I loved the epilogue and seeing how the case turned out as well as seeing the three couples together.