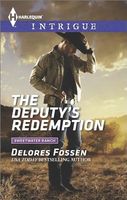 Series:
Sweetwater Ranch
(Book 5)
The woman fleeing a cold-blooded killer is no stranger to Deputy Colt McKinnon. Fourteen years ago, Elise Nichols was the love of his life. Now she's back in Sweetwater Springs -- to be the star witness in an upcoming murder trial that could tear the Texas lawman's family apart.
With her explosive revelations certain to rock the town, Elise didn't expect to be welcomed home with open arms. Certainly not by the cowboy with the badge who once meant everything to her. But after being run off the road and shot at, she has no choice but to trust him. Even more dangerous is the desire that's reigniting, making Elise yearn for something she may not live to see.
Very good story that had me hooked from the beginning. Elise has come back to Sweetwater Springs for two reasons. First, to renovate the ranch she inherited and start to raise cutting horses. And second, as the witness in the upcoming murder trial of Jewell McKinnon. She wasn't expecting a welcoming committee, but neither was she expecting to be run off the road and shot at.
Colt knew that Elise was back in town, but wasn't looking forward to seeing her again. They had been friends as kids and sweethearts as teens, but she couldn't wait to leave town for the city. Now she's back with evidence that could clear his mother of murder charges, but put his father in jail instead. Finding her running for her life puts him front and center to protect her.
Colt and Elise's first meeting was pretty rocky. Elise was convinced that he was the one who had been trying to kill her, and Colt was sure that Elise was setting him and his family up for trouble about the trial. It quickly became obvious that they were both wrong. Colt is determined to keep her safe while at the same time both try to resist the attraction that has flared up between them again.
I loved seeing the relationship that built between them. It started with mutual distrust, but an attraction that they couldn't deny. Both of them knew that giving in to it would be a very bad idea, but with Colt working to protect her it was only a matter of time. Once they got past the initial wariness, the heat between them continued to build. Colt knows that he shouldn't get involved with Elise because of her upcoming part in the trial, but his heart tells him that he has no choice. Elise is sure that whatever memories are locked inside her head will make it impossible for them to be together. I loved how the building trust between them made it easier for them to work together to find out who was targeting them. I also liked seeing that even Colt's family members made keeping her safe one of their priorities, even though she may be working against their father.
The suspense and action in the book were fantastic. There were multiple possibilities as to who was trying to have Elise killed and why, and each one had just as good a motive as the next. From the first attack on Elise to the final confrontation it was impossible to decide who had the better chance. There was the man who had been renting her property and his unhappiness about the way she ended his tenancy. There was also the woman and her brother who were angry at Elise because of the results of the background investigation she did on them. And there was also the fact that she was going to testify in a controversial murder trial. I really liked the way that Elise insisted on being involved in all aspects of the investigation and wouldn't just stay back where it was safe.
I liked the fact that each book in the series can stand alone, with its individual mystery solved by the end. I also liked that each one adds to the series mystery of who is actually responsible for the death of the missing man. I loved how each book has some new bit of information come out, building on each new book. By the end of this book I had a suspect in mind for the murder and I'm looking forward to seeing if I'm right.