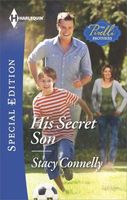 Series:
Pirelli Brothers
(Book 5)
That was then…
Ten years ago, getting up close and personal with Ryder Kincaid was all Lindsay Brookes wanted. The bookish senior couldn't believe it when the gorgeous Clearville High football hero finally noticed her. One magical night together was all it took to change her world. Now the single mom is coming home -- to come clean with the guy she's never gotten over.
Could this be their now?
The stunning brunette with the shy nine-year-old kid is…Lindsay? Ryder never forgot how she gave herself to him so completely. But he's changed -- a lot. And the secret Lindsay's keeping could tear them apart. With desire reigniting -- and then some! -- this could be Ryder's chance to step up and become the husband and father he always wanted to be…with the woman he's never stopped wanting…
Excellent reunion story. After ten years away, Lindsay is back in Clearville, staying with her grandmother and helping with repairs to her grandmother's house. She wants her grandmother to sell and move to Phoenix to be closer to the family. But privately, Lindsay also wants to see Ryder again before deciding whether to tell him he is the father of her son.
Back in high school Lindsay had been the shy, geeky and awkward teenager with a huge crush on Ryder. She'd been glad to help him with his calculus and listen to him talk about his dreams and plans for the future. She thought that she had it all, until the day he started ignoring her and went back to his old girlfriend, breaking her heart. When she discovered she was pregnant, he'd already left for college and his football scholarship, she made the decision not to tell him. Now she realizes that she has to tell him, but she wants to know what kind of man he has become.
Ryder had moved back to Clearville after divorcing his wife, who had also been that high school girlfriend. His life hadn't gone quite the way he expected and looking back he has quite a few regrets, not least of which is the way he treated Lindsay. He's never forgotten her and having her back in Clearville gives him the chance to apologize and show her that he's changed.
I liked the developing relationship between Lindsay and Ryder. Both have had their problems over the last ten years, things that have left their mark on them both. There was an attraction between them from the beginning, but their pasts have left them both wary. Lindsay is hesitant to trust Ryder with her heart again, after what had happened before. She also has her son to think about, and doesn't want him to get attached to someone who could end up hurting him. But most of all is the guilt she feels, as the more she gets to know Ryder, the more she wishes that she had confessed long ago. As her feelings for him grow, so do her fears of losing him once she tells him the truth.
I liked the fact that Ryder had realized what a jerk he had been back in school. Seeing Lindsay again reminded him of just how much he had liked her, and that he'd really like to get to know her again. He's also a bit wary because of what he went through with his ex-wife. One of the things I really liked about Ryder was the way that he connected with Robbie. Even not knowing that Robbie was his, he did a great job helping him make friends and doing things with him. I loved watching his feelings for her grow and how he begins to have new dreams of what could be. When he finally finds out the truth, I understood his reaction, but the things that were said between he and Lindsay were so emotional. Seeing them work through this brought quite a few tears. I loved his big moment at the end.