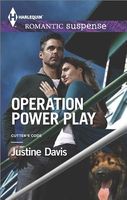 Series:
Cutter's Code
(Book 5)
Murder, corruption and a second chance at love...
When his dog, Cutter, leads Brett Dunbar to a dead body during a routine property check, it's the detective's hardest case yet. Because the victim was found on Sloan Burke's land. Now Brett must balance professionalism and attraction--something nearly impossible when the beautiful widow's determination puts her directly in the line of fire.
Seeing the heroic qualities she valued in her late husband reflected in Brett makes the protective wall around Sloan's heart crumble. Brett won't risk another relationship to his dangerous job, and Sloan refuses to have a future with a man constantly in danger. But solving the crime might be easier than letting each other go...
This is the fifth of the Cutter's Code books and it was just as good as the previous ones. Cutter is a very special dog who frequently seems to be far more than "just" a dog, and the people around him have learned to pay attention to him. Brett is a detective on the local police force and has had dealings with the Foxworth folks in previous books. He is one of the good guys who appreciates the good that Foxworth does. At the beginning of the book the dog Cutter is due to go home with another Foxworth employee while his people are on their honeymoon, but decides he'd rather go with Brett. Within a few days Cutter has engineered a meeting between Brett and Sloan Burke. Sloan and her aunt and uncle had been talking about a problem they were having with some paperwork filed with the county, and Brett, being a nice guy, offers to check into it for them. A simple inquiry leads to more and more questions about what is really going on.
Brett and Sloan are drawn together by more than just their investigation into the property question. There is an attraction between them that has surprised them, especially since both of them have issues that have prevented them from allowing anyone to get close to them. Brett had been married before, but his wife was murdered by a crook he had put away. Brett has sworn he would never put another woman in that kind of danger again. Sloan had been married to a military man who was killed in the line of duty when he and his men were ambushed. Sloan had promised herself that she wouldn't get involved with another man in a dangerous profession. Their intentions can't hold up against their attraction and the determined matchmaking of a certain dog.
I really loved both Brett and Sloan. Brett is one of those truly honorable men that seem to be so hard to find. I liked the way that he downplayed his part in checking into the paperwork problem, and yet was determined to find out what the problem really was. I also liked the deep respect he had for Sloan and what she has accomplished since and because of her husband's death. I liked his sensitivity to her feelings about their attraction, because he has the same thing going on himself. Sloan was an amazingly strong woman. When the powers that be tried to blame Jason for what had happened to he and his men, she took them all on, taking the fight all the way to the top. She then started her own group that was very much like Foxworth, that worked to help the men and women in uniform. I loved seeing the awe and respect that people like Rafe and others showed to her.
The relationship that developed between Brett and Sloan was wonderfully done. Though the attraction was immediate and strong, the relationship itself moved relatively slowly. I liked the way they took the time to get to know each other and were sensitive to each other's fears. Brett had a hard time letting go of the guilt he felt over his wife's death, especially as the danger got more intense. Sloan also had a hard time, and the mental conversations she has show just what she is going through. There is one spot at the end where she nearly lets her fears get the better of her. She does get past them, but once again Cutter comes through with the final "push" to get she and Brett together.
The suspense of the story was fantastic, though the blurb is slightly misleading. I loved seeing it build from what appears to be a simple paperwork snafu to something much bigger. The worry about what had happened to Brett's friend was very intense, and I liked seeing Brett have the confidence to go to Rafe at Foxworth when it looked like he would need more information than he could get for himself. The closer they got to finding the answers the more complicated things became. The final confrontation was very intense. I loved seeing how Cutter saved the day. The epilogue gave a great wrap up.
Cutter is the star of the show throughout the book. I always enjoy seeing the reactions of people new to Cutter and his capabilities. It's definitely a bit spooky at times to see how he reacts to various happenings. I can't wait to see who gets his attention next. I really hope that Rafe gets his story soon. I have a feeling it has something to do with the mysterious Charlie.