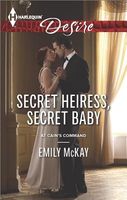 Series:
At Cain's Command
(Book 4)
The secret heiress is back…with a little secret that changes everything
As the long-lost heiress in a notoriously scandalous family, Meg Lathem has always kept her distance. But now her daughter needs lifesaving surgery, so Meg asks for support -- either from the child's unscrupulous father, Grant Sheppard, or the dreaded Cains themselves.
Grant had an agenda when he first bedded Meg -- revenge against her birth father. But now, confronted by news that he's a daddy himself, Grant finds his feelings for Meg run deep. Can he convince Meg he's there for her this time, and protect her from the Cain legacy even as she claims it?
Excellent conclusion to the series. As seen in the previous books in the series, the three brothers had been given the task of finding their illegitimate half sister. The closest they came was in the previous book,
A Bride for the Black Sheep Brother
. Meg has always known about her father and brothers, but has wanted nothing to do with them. Her father had used her mother to get something he wanted and then abandoned her. Meg had also found herself pursued by Grant Sheppard, later finding out that he was a rival of the Cain family, with his own vendetta against them. After a short affair, he disappeared one night, never contacting her again.
Two years later, Meg desperately needs help and the only people she can turn to are the Cains or Grant. Her daughter, who is also Grant's daughter that she never told him about, needs surgery. She first plans to go to him, but when she sees him with a pregnant woman and a child, she assumes he is married and can't face him with news of their own child. She then goes to the Cains, who contrary to what she expected, welcome her with kindness and open arms. She doesn't want anything to do with the inheritance, just wants enough to pay for her daughter's medical needs. One of the things I liked about Meg was that she was a lot stronger than anyone gave her credit for. I loved the scene where she faced down Hollister himself.
The moment when Grant finds out about his daughter, Pearl, was quite a blow for him, literally and figuratively. He had followed Meg to her brother's house, needing to talk to her about their past relationship, and the fact that he still wanted her. Upon arrival, he is confronted by her brother, accused of abandoning Meg and her baby, then knocked unconscious by her brother's fist. Needless to say, he was quite angry about the deception, and determined to get Meg and Pearl into his life.
I loved seeing Meg stand up to Grant and make sure that he understands just what a commitment he will be making if he gets involved in their lives. I liked the way that she gave Grant the chance to get to know Pearl, even though she still worried about what was going to happen to them. She found herself falling for him once more, but unwilling to trust him with her heart again. Finding out that he still has secrets threatens what she thought they were building. She tries to explain her feelings and let him know what she needs from him, but his cynicism won't let him believe in the possibility. She wants to be able to trust him, and he thinks that it is impossible to trust anyone, especially him.
Grant had spent his entire life hating Hollister Cain and his family for what he did to Grant's family. When he found out about the search for the missing Cain heiress, he knew that he had the perfect revenge. Thanks to family journals, he knew right where to find Meg. So he planned to seduce her and use her to get the Cain shares that he could use to destroy the company. He did not expect to start to have feelings for her and feel guilty about his plans, so he abandoned that plan and snuck away. Two years later he was stunned to find Meg with them at a Houston social event. Though he'd been away from her for so long, his hatred of the Cain family had him worried about Meg. He was afraid that they would use her and manipulate her (and yes, he saw the irony in those fears) and that she would have no way to protect herself. In his first confrontation with her, he didn't know anything about the baby, only that he still wanted her and worried about her. Finding out about Pearl had him even more determined to protect them. I loved seeing him fall under Pearl's spell, and the way he worked at becoming a father to her. His feelings for Meg also grew, but opening up to her was something he couldn't do. He knew he wanted them in his life, but his way of going about it sent Meg running instead.
Both Meg and Grant had to face the demons of their pasts before they could have a chance to have a life together. I liked seeing how Grant found a way to show Meg how he felt and what he did to convince her. I loved the epilogue and the changes it showed, especially in Grant and his attitude toward the Cains.