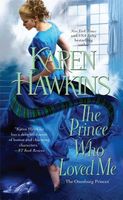 Series:
The Oxenburg Princes
(Book 1)
Prince Alexsey Romanovin enjoys his carefree life, flirting -- and more -- with every lovely lady who crosses his path. But when the interfering Duchess Natasha decides it's time for her grandson to wed, Alexsey finds himself in Scotland, determined to foil her plans. Brainy, bookish, and bespectacled, Bronwyn Murdoch seems the perfect answer -- she isn't at all to the Duchess's taste.
Living at the beck and call of her ambitious stepmother and social butterfly stepsisters, Bronwyn has little time for a handsome flirt -- no matter how intoxicating his kisses are. After all, no spoiled, arrogant prince would be seriously interested in a firm-minded female like herself. So…wouldn't it be fun to turn his "game" upside down and prove that an ordinary woman can bring a prince to his knees…
Fun book with a Cinderella theme. Alexsey is in Scotland with his grandmother who is determined to get him married as soon as possible. She has assembled quite a collection of suitable young women for him to choose from. Unfortunately for her, Alexsey enjoys his bachelor status far too much and has no intention of going along with her plans.
Bronwyn and her family are neighbors of Alexsey's host. She has an absentminded inventor for a father, a stepmother who is determined that her daughters marry well, and two sweet but sometimes flighty stepsisters. Bronwyn herself prefers her books and her dogs to society, and at twenty-four is happy to be done with trying to find a husband.
Alexsey stumbles across Bronwyn one day as she is reading in the woods. He mistakes her for a maid and is intrigued by her intelligence and quiet beauty, and by her stated intention that she will never marry. He steals a kiss before she runs away home, and spends the next couple days haunting the woods, trying to see her again. He thinks that she is just what he needs to make his stay there more bearable. He is later surprised to find out that she's no maid, but the oldest daughter of neighbors. But since she doesn't plan to marry, and he's in no hurry to do so, he believes that a dalliance is still possible.
Alexsey comes across as rather spoiled and thoughtless, as he doesn't seem to care at all about the effect his plans could have on Bronwyn. He is unaware that she has overheard him describing his plans to seduce her and enjoy the few weeks he is there, then leave with no intention of ever seeing her again. His friend tries to talk him out of it, but he is determined.
Bronwyn bugged me a little at first, as she was so wrapped up in her novels that she kept picturing Alexsey as one of the heroes and zoning out into daydreams. When she hears him describe his plans for her, she decides that she needs to teach this arrogant and spoiled prince a lesson. She plans to encourage his attentions to the point where he is driven mad with desire, then walk away from him.
Meanwhile, Bronwyn's stepmother and Alexsey's grandmother are conspiring to match Alexsey with Bronwyn's oldest stepsister. Alexsey sees what they are doing, and ignores Sorcha in favor of Bronwyn, knowing that his grandmother would not approve. The two women do everything they can to keep Bronwyn and Alexsey apart.
It was fun to see Bronwyn and Alexsey together. Both of them are so determined to maintain their independence that they don't see how perfect they are for each other. Both of them love to read, like the outdoors, and appreciate peace and quiet. I really enjoyed seeing how Alexsey saw her beauty and intelligence and tried to show her that she was more than her family believes. He also sees the passion in her and is surprised by how easily he is able to bring it out. I had a fun time seeing how Bronwyn tried to keep the upper hand when it came to her relationship with Alexsey, but resisting the attraction between them was impossible. They had some very interesting conversations and I loved seeing Bronwyn's attempts to outwit him.
There were some very interesting twists on the road to them getting their happy ending. It definitely showed that you're more likely to appreciate something if you have to work to get it. I loved seeing Alexsey stand up to his grandmother and her surprise when he does so.