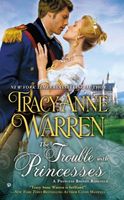 Series:
Princess Brides
(TAW)(Book 3)
On the threshold of receiving her royal inheritance and tired of the London Marriage Mart, Ariadne has decided to defy convention and declare her independence. She will not seek a husband -- she will take a lover instead, no matter how notorious she may become.
The prince of a small European kingdom, renowned bachelor Rupert Whyte, is in London to enjoy a last bit of freedom before choosing a wife. When he learns about Ariadne's scheme to take a lover, he decides he must prevent her from embarking on such a ruinous course.
What begins as a well-deserved reprimand quickly spins out of control when Rupert agrees to give Ariadne a few lessons in lust. But just how far will their passion go? And will their forbidden liaison lead them too far astray to turn back?
Fun book. Ariadne would like to have a husband and family, but she won't settle for just anyone. She wants a man she can love, just like her two best friends have found. Since she hasn't been lucky enough to find him, she decides it's time to do her own pursuing. But instead of a husband, she's going to look for a lover, and not worry about her reputation. The only thing stopping her is the interference she's getting from her best friend's brother, Prince Rupert.
Rupert is prince of a small kingdom and he's getting pressure to marry someone appropriate. He's come to London to visit his sister Emma (
The Princess and the Peer
), and enjoy some freedom before he chooses a wife. He's always considered Ariadne to be the wild one of his sister and friends and he's horrified by the scandal that would ruin her, and could also affect his sister. He's determined to stop her from doing such a reckless thing.
There have been sparks between Rupert and Ariadne since the first book, though they have been expressed in antagonism up until now. Ariadne is headstrong and independent and determined to follow the course she has set. She is also a bit naive, and believes that she can handle whatever her actions throw her way. When Rupert comes across her kissing a man, he breaks them up and lectures Ariadne about what could happen. When she refuses to listen, he demonstrates by capturing her and then kissing her senseless. He doesn't expect the kiss to affect him, but it does. Still thinking about the kiss a few days later, he offers to teach Ariadne what she wants to know, keeping things discrete between them and thereby protecting her reputation. He intends to show her the passion she wants, but retaining enough control to keep it from going too far.
I really liked the interactions between Ariadne and Rupert. He is a bit on the stuffy side and is uncomfortable with his sister's public affection for her husband. It was fun to see Ariadne tease him about that. He's also very conscious of duty and honor, so Ariadne's plans are especially bothersome to him. His sudden attraction to her is a surprise, but he feels he can use it to help her while at the same time protecting her. Ariadne is focused on her goal and doesn't see the trouble she could get into. She's been testing out possibilities by kissing various men, but hasn't been impressed by any of them. Rupert's kiss stuns her with the way it makes her feel. She's surprised by his offer to teach her what she wants to know, but can't resist him. Each "lesson" leaves her wanting more and she teases him trying to get him to give in. Rupert discovers that the control he's always had around other women isn't there when he's with Ariadne, and trying to keep to his plan is getting harder.
Their plans for a discrete liaison go out the window when Ariadne is kidnapped by a desperate suitor and Rupert rides to the rescue. Ariadne has confidence that Rupert will save her, but that doesn't stop her from making her own attempts. This puts them in the position of having to marry because of their being alone together. Ariadne is determined that she will not force him into marrying her, or be forced into a loveless marriage herself, but Rupert is adamant.
An emergency at home and pressure from outside drives a wedge between them, sending Ariadne running to their other friend. She believes it is best for him, even though it breaks her heart. Rupert has to look inside himself and his own feelings before he realizes that he can't live without her. I loved the ending and seeing them finally admit their love. The only thing that would have made it better would be an epilogue. I really would have liked to see how they are doing a year or so down the road.