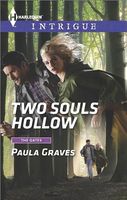 Series:
The Gates
(Book 6)
Her best protection came from an unlikely bodyguard
When secrets leak from The Gates, the hunt is on for a mole. All evidence points to Anson Daughtry, who knows their security inside and out. Only coworker Ginny Coltrane can help clear his name, but she's caught in the middle of a turf war between militants in the Smoky Mountains. More at ease behind a computer than with a gun, Anson makes for an unlikely bodyguard. But hunkering down in the Tennessee foothills, turns out Ginny's not exactly the "need to be protected" type. Still, with someone stalking their every move, Anson isn't about to let her out of his sight. Or, if he gets his way, out of his arms.
I loved this book. In the previous two books,
Deception Lake
and
Killshadow Road
, it was discovered that there was a mole in The Gates security firm. Anson is one of two people who was suspected of being the leak because of his work as the IT director. He has been placed on administrative leave while the investigation takes place. Not being the type to sit back and wait, he's doing his own investigating, which leads him to Ginny.
Ginny is the payroll person at The Gates. She also has access to a lot of information, making her a possible suspect for the leak. Anson is watching her one night as she goes to the local bar to retrieve her inebriated brother. He witnesses her being accosted by four very large men and steps in to rescue her, getting beat up in the process. Ginny is accustomed to taking care of herself, and isn't sure what to make of Anson's interference. She feels guilty about his injuries, but also grateful for his help. When additional attacks take place, Anson is determined to keep her safe.
I loved Anson and Ginny. Neither one is the stereotypical superman/superwoman security agency operative. Ginny is an office worker, trying to keep her brother out of trouble. But she is stubborn and independent and very smart and tries to keep Anson out of her troubles. Anson isn't a field agent, and hasn't been trained as one. He is a computer nerd, working his magic on the Gates' computer systems. He's in good shape, but not musclebound, so when he tries to stop her assailants he doesn't come out on top, but does manage to hold them off until help arrives.
It quickly becomes obvious that the trouble Ginny is in has something to do with her brother. Anson is determined to keep her safe until they find out what the connection is, and also if there is a connection to the mole. There is a strong attraction between them that has them wanting to believe in each other, but both of them have some trust issues that stem from their own pasts. Those same issues have caused each of them to avoid relationships in the past, but with each other they want to believe that it's possible.
I really liked the buildup of the suspense, both from the previous books and in this one as the mystery continues. There are things that happen that make Anson and Ginny doubt each other's innocence even as their growing feelings insist that trust is possible. The emerging clues led me to bounce between a couple people as suspects, and I was glad to see that my initial suspicion turned out to be correct. The final confrontation was intense and I loved Ginny's quick thinking to help them save themselves.
As the investigation went on, I really enjoyed seeing how Quinn was always there to support his people. I also loved seeing his reactions as those same people don't always do as he wants or expects. There are a couple of pretty amusing places where his frustrations are obvious. I really hope that he ends up with his own story, with a woman that can stand up to him.