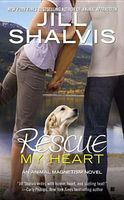 Series:
Animal Magnetism
(Book 3)
She never wants a hero…
After a tragic stint in the National Guard, Adam Connelly returns to Idaho and to Belle Haven, the animal shelter he owns with his brothers. All Adam wants is to be alone. Then he opens the door to the past -- the woman whose heart he once broke. Still gorgeous, still tough-as-nails, but this time, unusually vulnerable.
Holly learned the hard way to never depend on a man for anything. Now, of all men, Adam is the last one she wants to see, and the only one she needs. Her father has gone missing in the Bitterroot Mountains and she could use someone with tracking skills to help find him.
For Holly and Adam, each with their ghosts, a trek this desperate, this unpredictable, and this intimate, will have its share of risks -- including opening their hearts one more time.
Fantastic book. Adam is back in Sunshine after some time in the National Guard. His job there was Search and Rescue and his last mission with them had not gone well. He's been back home for two years, fighting to get back to normal. He's better than he was, but still not where he wants to be. One night he gets a visit from Holly, the woman he'd left behind after high school. He's seen her a few times since he's been back home and it never goes well. Now she needs his help to find her father.
I loved both Adam and Holly. Adam was a screw-up as a teenager, constantly getting into trouble. The one good thing was his relationship with Holly. But when one of his antics caused the death of someone, it was suggested that he join the military and get his act together. Feeling that he's no good for her, Adam tells Holly that he's leaving and won't be back, and not to bother waiting for him. His time away gave him the discipline he needed, but he still feels that he's not good for her. Added to that is the PTSD he suffers from, after a rescue mission gone wrong where he lost half his team. He suffers from nightmares and flashbacks, but is able to use his skills to help with the region's S&R. He trains people and dogs, coordinates rescues, and is there when someone asks for help. He's surprised when Holly comes to him for help finding her father, considering their past. He doesn't want her coming along, but she refuses to be left behind.
Holly is back in Sunshine after years away. After Adam dumped her all those years ago, she went off to college and then married one of her college professors. It wasn't a good marriage, but Holly has her pride. She didn't want to admit her mistake to her father and brother, who had warned her against the man she married. She finally divorced the man, but hasn't told anyone at home. She has come back to Sunshine to help her father run his ranches. She sees Adam now and then, but is still angry with him over the way he dumped her. When her father goes missing and there's a storm on the way, she knows Adam is the only one she can trust to find him.
From the moment Holly shows up at Adam's place, the sparks between them are intense. Holly knows that if she spends time with him she risks falling for him all over again. She also knows that she can't just sit and wait while Adam goes out looking for her father. Adam doesn't want her with him. Since his return he prefers to work alone, and he's determined to keep it that way. Holly doesn't take no for an answer and I loved seeing how she made sure she got her way. Adam isn't happy, but he takes her along. Alone together, the attraction between them builds, but they are also forced to face their pasts. I loved seeing how Adam saw past Holly's tough exterior to the vulnerable woman beneath. He also found it harder to maintain the emotional distance with her that he manages with everyone else. I liked the battle of wills between them as they get to know each other again. The memories of who they used to be come up against who they are now after the changes caused by what life has thrown at them. The sparks flare into passion one night during the search and both have to face what it means to them.
Adam still tries to push Holly away. He considers himself still not good enough for her. With all his issues he isn't willing to get involved and risk breaking her heart again. This time, Holly isn't going to let him be the sacrifice. She knows what she wants and is going to go after it. It was a lot of fun to see Adam fighting his feelings and losing big time. Both of his brothers are there to support him through his PTSD, but they also have no problem telling him when he's being an idiot about Holly. There are some really fun conversations among the three of them as they try to make Adam see the truth. I also loved seeing Holly go all in once she realizes that she still loves Adam and isn't going to let him get away this time. I really liked the way that she tried to show him that he's not the same guy he had been all those years ago. She sees the good man that he is behind the walls that he's put up. But she also has to allow herself to trust him to be there for her. I loved seeing them both finally open up all the way and risk everything to get it all.