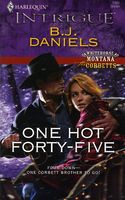 Series:
Whitehorse Montana: The Corbetts
(Book 5)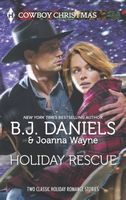 APB: LOOKING FOR THE LAST CORBETT BACHELOR
A woman in trouble was like the call of a siren for any of the Corbett boys. And while Dede Chamberlain was in big trouble, she was off-limits to Lantry Corbett. But Dede was desperate and didn't have time to be levelheaded like Lantry. She needed his help and she'd get it at gunpoint if she had to.
COULD HE BE FOUND AT THE ALTAR?
With a wild Montana blizzard bearing down, they set out...only to make it as far as a deserted cabin. Cloistered away as the snow swirls outside, Dede finds the protection she needs in Lantry's strong arms. But with a killer and the law after them, Lantry will need a heapin' portion of Christmas blessings and the help of the whole Corbett clan to mete out justice in Whitehorse before it's too late.
Good story with excellent suspense and a fast moving romance. Dede had been in love with her husband Frank, until he started to change. She found out that he was mixed up in some dangerous activities. Suddenly he filed for divorce, claiming that she was crazy and having her committed to a mental hospital. Lantry Corbett was his divorce lawyer, and he succeeded in finishing off the wrecking of her life.
Dede believes that her life is in danger because of whatever Frank had been mixed up in. She was equally certain that Lantry's life was also in danger. She manages to escape the hospital in the company of another inmate, one who is definitely dangerous. Once she gets to Whitehorse, convincing Lantry isn't easy, and it takes a desperate act to get the ball rolling.
Lantry is a high-powered Texas divorce lawyer, and about as cynical about love and marriage as you can get. He's convinced that Dede is mentally unstable, especially when she kidnaps him at gunpoint. But it doesn't take too long before he realizes that the things he thought he knew about her weren't consistent with the woman he's on the run with. When a couple of attacks on him occur, he begins to think that she's not so crazy after all.
The relationship between Lantry and Dede builds very quickly. It starts as an attraction that burns hot and fast. But Lantry is wary of what he is feeling, thinking it's mostly a case of adrenaline and proximity. The more he gets to know her, the deeper becomes his conviction that she's innocent of the charges against her. He becomes very protective of her and risks a lot, personally and professionally, to help her. His mind tells him that trusting her is a very bad idea, but his heart is telling him that he needs her just as much as she needs him. Dede isn't so sure she should trust Lantry after the way he went after her during the divorce, but she couldn't live with herself if something happened to him. She doesn't expect to see that, away from the city and his law practice, he's actually a pretty nice guy. She falls hard for him, but believing that they have a chance together is going to take some work. I loved seeing the changes that Lantry went through as he fell for Dede.
The suspense of the story was very good. Dede's determination to warn Lantry has her taking a lot of risks. He is so convinced of her guilt at the beginning that it's hard to see him giving her a chance to prove herself. There were a lot of different characters and each one had their own influence on what Dede was going through. There were times I wondered just how her innocence would be proved. There was a very interesting twist to the identity of the final player that I really didn't see coming.