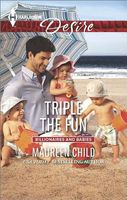 Series:
Kings of California
(Book 16)
Billionaires and Babies
(Book 57)
Baby, baby…baby?!
He's a captain of industry, a brooding billionaire and -- a daddy? When Connor King learns he has fathered triplets, he feels double-crossed. Now nothing will stand in the way of claiming his heirs, not even their alluring legal guardian, Dina Cortez.
With the babies' mother gone, Dina has vowed to protect Sage, Sam and Sadie. But who will protect Dina from her feelings for the dark and defiant Mr. King? Because once she and the children are moved into Connor's California seaside mansion, his stately bed is just a heartbeat away…
Very good story. Connor gets the surprise of his life when he discovers he is the father of triplets. He had been sperm donor for a friend, but was told that the insemination didn't take. His friend moved away and didn't tell him about the babies. The first he knew about it was after the couple had died, and the babies' aunt and guardian asked for financial help.
Connor is furious that he'd been lied to, and feels betrayed by one of the few people he trusted. As part of the King family, he has experience with people, especially women, wanting to use him or his money to get what they want. He's certain that Dina has an agenda of her own, and he'll do whatever is necessary to claim his babies.
Dina is a successful caterer whose life was turned upside down by her sister's death and becoming guardian of her niece and nephews. She had always been under the impression that their father wasn't interested in them, so Connor's appearance surprised her, as did his determination to take custody of the kids.
There are sparks between Dina and Connor from the moment they met. Dina fights them hard because she can see herself falling for him. She doesn't trust men, especially rich ones, because she so often saw her mother constantly changing who she was to meet their expectations. She is afraid that she would do the same thing. Of course, the sparks burst into flame pretty quickly and she and Connor grow closer. As she feared, she falls in love with him, but knows that her love isn't returned.
I loved seeing Connor fall for the babies so quickly. Thanks to the multitude of children in the King family, he's not entirely inexperienced and I enjoyed seeing how he surprised Dina with his ability to take care of the kids. Because of who he is, Connor is used to getting what he wants, and he wants the kids. He pushes Dina into moving into his house with the children.
Connor also wants Dina. Having her and the kids living with him has given him something he didn't know he was missing, and he wants to make it permanent. Once he has what he wants, he realizes that what he feels is love, but he can't overcome his fear of trusting her. When those fears cause him to act like a complete fool, he nearly loses everything. I loved the conversation with his brother Colt (
Double the Trouble
) as Colt reminds him of what he went through. Dina also has to let go of her fears and learn to trust as well. The ending was pretty sweet.