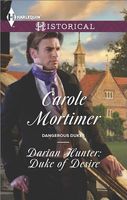 Series:
Dangerous Dukes
(Book 2)
The Players:
Darian Hunter, Duke of Wolfingham: legendary rake and notorious bachelor
Mariah Beecham, Countess of Carlisle: society's scandalous widow and secret agent of the crown
The Stage:
A notoriously debauched house party
The Scene:
Forced to pose as lovers, Darian and Mariah must work together to stop an assassination plot
The Twist:
As the shocking and oh-so-sensual games play out around them, the romantic ruse becomes all too real. And the tantalizing temptation to indulge their every desire becomes overwhelming…
Very good book that starts out with sparks that turn combustible later. Darian is angry when he hears that his younger brother appears to be in a relationship with Mariah. Mariah is a widow with the reputation of having had multiple lovers, and Darian doesn't want his brother involved with her. When he confronts Mariah about it, sparks fly between them.
Darian comes across as quite a judgmental jerk in their first encounters. He's trying to protect his brother from what he sees as a bad influence, but his methods are not appreciated. He certainly doesn't expect to find himself physically attracted to a woman so outside of anything that would normally appeal to him. He's also intrigued by things that don't seem to be consistent with his view of her.
Mariah's marriage had not been by her choice and it had not been a good one. After her husband's death, she swore she would never put herself under the control of another man. She enjoys her freedom and is angered by Darian's accusations. She doesn't see that he has any right to judge considering he has his own reputation. There's also something about him that sets her on edge.
As their latest argument is interrupted by a man they both know, Darian and Mariah are shocked to discover that the other has also been working as a secret agent for the crown. They are asked to put aside their differences and work together to stop an assassination plot against the prince. To do so, they must play the part of lovers at a notorious house party.
I loved the sparks and chemistry between Darian and Mariah. Once they discovered each other's secret lives, both had to resolve the conflicts between their perceptions and what was the truth. This wasn't easy for either of them. They also had to deal with their attraction to each other. Because of her marriage and its effect on her, Mariah is far different than Darian had believed. I loved his protectiveness and gentleness as he gets to know her, and his attempts to control the strength of the desire he feels for her. I loved the strength of will that Mariah had, that enabled her to overcome all that had happened to her. Her wariness about the way Darian made her feel was quite understandable, but I liked that she allowed herself to pursue it. The things that went on at the house party were quite eye opening for her. After the action was all done, I loved seeing Darian realize just how strong his feelings for her were. The scene in the carriage on the way back to London was fun to read as Darian tried to tell her how he felt. I liked the epilogue and the bit about Darian's brother.
The mystery of the traitor was good, but was really mostly in the background. The final confrontation was good, but didn't have much intensity to it.