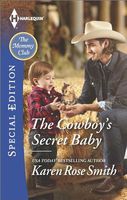 Series:
Mommy Club
(Book 3)
"It takes two to make a baby... "
When an injury forces bull rider Ty Conroy home to his family ranch, he comes face-to-face with a big secret. A tiny version of himself. His son. Ty never anticipated being a daddy, but there's no denying the adorable boy. Nor the one amazing night he had with the baby's mom, Marissa Lopez. A night Ty can't forget...
."..but three to make a family. "
Moving to Ty's ranch was supposed to be just a temporary move for Marissa and the baby. Instead it's proving to be a temptation for her, and if appearances are to be believed, for Ty as well. But Marissa has to resist, for their son's sake. Because nothing--and no one--can keep a rodeo cowboy in one place. And when he leaves this time, she'll be damned if he takes her heart with him...again.
Ty has returned to Fawn Grove after an injury ends his bull riding career. He and his uncle are in the middle of turning their ranch into a guest ranch when he encounters Marissa. He hasn't forgotten the incredible night they'd had together two years earlier. When he finds out that she is the mother of a little boy, a son she hadn't told him he had, he is angry and hurt. He had never expected to be a father, but now that he is, he's determined to be the best that he can. He just has to convince Marissa.
Marissa hadn't told Ty because with his life on the road she didn't want a part time father for her son. Now that he's settling down, she can't deny him the chance to get to know his son. When he asks her to move to the ranch so that he can spend more time with Jordan, she agrees, but she's wary. The attraction between them is still strong, but she won't risk her heart on someone who could walk away.
I really liked Ty. When he finds out about Jordan he's determined to be a good father. His own father had been a rodeo cowboy, never around when Ty was growing up. After his mother left them, they went to live on his uncle's ranch, where his dad left him to go back on the road. So Ty knows what it is like and vows to be the kind of father Jordan needs. I loved seeing the way he got Marissa and Jordan to move in at the ranch and how he jumped into fatherhood. It was really sweet to see how quickly he and Jordan bonded. Spending so much time with Marissa has the attraction growing stronger, and Ty starting to think of ways to keep them on the ranch. But if she kept Jordan away from him for so long, can he trust her not to push him away? And are his plans for the ranch enough to give her the life she deserves?
Marissa had done what she thought was best at the time, but seeing Ty with Jordan now, she feels guilty about keeping them apart. She agrees to move to the ranch, but her attraction to him is playing havoc with her intentions. Having seen what her mother went through when her father walked out on them, Marissa was determined that she would never depend on a man for anything. But her feelings for Ty are growing stronger every day. She wants to believe that he'll be there for them, but when opportunity comes knocking on his door can she trust his choice? Or can she believe that love can make anything work?
I loved seeing the way that their relationship developed. They begin to understand each other's fears. I liked the way that Marissa worried about Ty on the trail ride, but didn't try to stop him, understanding his need to do it. I loved seeing Ty cope with Jordan's illness and how it opened his eyes to what was really important. Marissa also finally saw that Ty is different than her father, and that she can trust him with her heart.