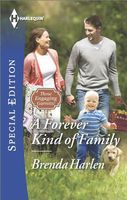 Series:
Those Engaging Garretts
(Book 7)
TWO'S A DATE. THREE'S…A FAMILY?
When they become guardians of their best friends' orphaned baby, Ryan Garrett and Harper Ross expect disaster. The two can't be more different -- she's an uptight career woman; he's a laid-back ladies' man. But for little Oliver, they're now Mommy and Daddy.
For Harper, playing house with the flirtatious Ryan is as difficult as being a mother. Fussy babies elude her…but sexy Ryan pursues her! He reminds her of the night they spent together years ago; she needs to forget it. All they agree on is their love for the baby. They'll do anything for the little guy. But when their custody is threatened, will they go all the way…and marry?
Very good story. Ryan and Harper were godparents for their best friends' baby, never expecting that anything other than visits and spoiling would be needed. When their friends are killed in an accident, Ryan and Harper find themselves named as guardians for baby Oliver. Determined to do their best for him, they move in together into their friends' home and try to find a way to make it work.
Ryan and Harper are very different. Harper is intense, driven, and keeps a tight rein on her emotions. She has no experience with children and is afraid of doing the wrong thing. Ryan is more relaxed, having some experience with various members of his family. Added to it all is the memory of the one night they spent together four years ago. The attraction is still there, but Harper is as determined to fight it as Ryan is to pursue it.
All of Harper's experience with love and family shows that relationships end, usually badly. Her own parents had never really been there for her growing up. Her mother had been extremely critical of her as a child, and her father was notorious for his womanizing ways. Being around Ryan and his family shows her that happy families do exist, but she still doesn't believe that it could happen for her. Eventually the chemistry between Harper and Ryan gets the better of them and they develop a tentative relationship.
Harper is still cautious about believing it will last, but when their custody is threatened, Ryan proposes that they strengthen their case by getting married. What she doesn't know is that Ryan is already in love with her, and looks at this as a win-win situation. But when she has the opportunity to interview for a dream job, which is going to win out? The job or the feelings she's just beginning to admit?
I loved seeing the changes that Harper went through as she went from the uptight, nervous Nellie, to a woman who was confident in the love of her man and her ability to be a mom. I loved the way that Ryan was patient with her fears and used humor to lighten things when she would start to panic. There were many sweet moments with little Oliver, and also some pretty funny ones. I also loved the support that Ryan's family gave to them both. It was especially nice to see how Kenna (
A Wife for One Year
) became such a good friend to Harper, and shared her own unique marriage story with her. I think it went a long way toward making Harper see that anything is possible when you let yourself love. I loved the ending and Ryan's solution to Harper's quandary. There was also a very interesting twist at the end of the book, and I'm looking forward to seeing where it goes.