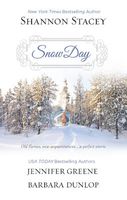 When a child goes missing, this perfect storm of cramped quarters and freezing temperatures brings old flames and new acquaintances closer together...but will they go separate ways once the sky clears?
HEART OF THE STORM by Shannon Stacey
Brody Rollins is back in tiny Tucker's Point, Maine, for the first time in five years, and now he can't escape...from former neighbours, old regrets or maddening glimpses of his ex-fiancée.
Good second chance story that has Brody facing up to the mistakes he made in the past. Five years earlier he had snuck out of town one night, just leaving a note for his girlfriend. He had been unable to deal with his fears about the only future he could envision if he stayed, stuck in a dead end job as a fisherman in a town he had grown to hate. So he left, looking for a better life, and hasn't been back since.
However, he can't refuse his sister's request that he come see his newborn nephew. He plans to come into town, stay the night with his sister, then leave the next morning. He doesn't count on the ice storm that traps him there, or the power outages that have them taking refuge in the town elementary school.
Delaney was devastated when Brody left, leaving only a note, and never heard from him again. She has made a good life for herself in the town she loves, even if she hasn't found a new love. When she hears that Brody is visiting, she hopes to avoid seeing him, but as the town's emergency management person, it's her job to run the shelter.
Seeing Brody again brings back all the old hurts. She had hoped that she was over him, but quickly realizes the feelings are still there. She doesn't want his apologies, she just wants to avoid him. Brody really wants her to understand, He's persistent, and it isn't long before they are spending what time they can together. Both of them discover that the old feelings are still there, but so are the same obstacles. Delaney loves the town and its people and has no desire to leave it. I loved seeing her stand up for herself and her wishes. Brody still doesn't want to live there, plus his business is in Connecticut. I loved the heart to heart talk with his father that finally opened Brody's eyes.
There was one thing about the story that bothered me, and that was the missing child that everyone was looking for. No one ever said if she was found. They were looking, and then they weren't. Hopefully that will be resolved in one of the other stories.
SEEING RED by Jennifer Greene
Stranded at her grandfather's seaside cottage, Whitney Carr prepares to face the blizzard alone. But unexpected help soon arrives-in the form of her secret high-school crush.
Another reunion story of high school sweethearts. Red had broken up with Whitney with no explanation the night of their high school prom. She left for college and has spent little time in Tucker's Point since then, and hasn't seen Red at all. Now she is back, at the request of her mother and sister, to find a "treasure box" in her grandparents' old home. Being an experienced Mainer, she came prepared to weather the predicted storm. What she didn't expect was a visit from local emergency crew member Red. He is equally surprised to see her.
Whitney still has some hurt feelings from their breakup long ago, but she isn't carrying a grudge. She's happy to see Red and enjoys his fleeting visits between his emergency commitments. I enjoyed seeing them get to know each other again. I liked seeing Red help her find the box she was looking for. Red has realized over the years that he made a mistake breaking up with Whitney and is now determined to let her know that he still cares, and why he did what he did. I thought it was pretty sweet that he had mimicked her grandmother in his way of remembering their past. Everything wasn't wrapped up in a neat bow, as they knew there were still decisions to make, but it ended on a happy note.
I was happy to see the problem of the missing child resolved. It was heartbreaking to see the reason she was missing. I liked the sensitivity that Whitney had to her distress and how she was able to help.
LAND'S END by Barbara Dunlop
Tessa Ambroise is desperate to ditch the charming, infuriating hotelier circling her late aunt's century home like a vulture. But the snow piling up outside the mansion puts both their plans on hold.
Tessa and her friend had come to Tucker's Point to go through some of the things in her late aunt's castle like home. Tessa is also recovering from ending her engagement to Colton. She can't help still thinking about him, as it is hard to forget a practically perfect man. Her problem had been that she never felt like she could live up to him.
She's surprised to see him show up in Maine. Unknown to her, he had been talking to her brother about buying the house and turn it into another one of his fancy hotels. He also acts like he wants to get back together with her.
I got a bit frustrated with Tessa, because whenever he asked why she ended their engagement, she wouldn't tell him. She kept going on about his "perfectness" without explaining to him how she felt. I was equally frustrated with Colton. Because of issues with his father, he always feels that he has to have complete control of his emotions. Though I did feel that he truly loved her, everything he did for/to/with her always seemed cold and calculated to me. When his friend Rand was finally able to make Colton see that Tessa wanted real emotion from him, I thought that the way he went about it was pretty stupid. I don't understand why he picked those emotions to show and that way to demonstrate it. If I had been Tessa I would have resisted even harder. In the end, they finally understood each other, so I guess that's okay.