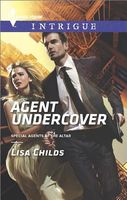 Series:
Special Agents at the Altar
(Book 2)
She's wanted by unknown assailants, the government…and the man sworn to protect her
A man like FBI special agent Ash Stryker would never be caught dead at a speed-dating event. But that's where he tracks down Claire Molenski, a computer programmer suspected of selling government information. When he rescues her from a botched kidnapping, he realizes not only that she's innocent, but also that the only way to protect her is to pose as her boyfriend.
Claire knows that their relationship is a ruse. Once the case is closed, she'll never see Ash again, and that scares her almost as much as the abduction attempts. But the way he acts toward her makes her wonder just how much of an act their relationship really is. And if she'll be able to survive long enough to find out.
Good book. Ash works for the antiterrorism unit for the FBI and is currently looking for the person selling information about how to get around government firewalls. His investigation has led him to Claire, a previously convicted hacker who now works for a cybersecurity company. He suspects she is at the speed dating event to make contact with a buyer.
Claire was convicted of hacking as a teenager and given the chance to work for the good guys instead of going to prison. Ever since then she has concentrated on her work at the expense of having any kind of personal life. When the people who mean the most to her start finding love and lives of their own, she realizes that she wants what they have. Never having had the chance to really develop some social skills, she turns to online dating to find someone of her own.
Her reaction to Ash makes her nervous and she leaves the event in a hurry. As she heads out of the hotel she is grabbed and chloroformed, but luckily Ash is there to rescue her. When she regains consciousness, she's dismayed to discover that Ash suspects her of selling secrets.
I liked both Ash and Claire, though he certainly frustrated me at the beginning. Ash was totally convinced that Claire was guilty, and it wasn't until there had been several attacks on her that he admitted he might be wrong. I liked the fact that once he was convinced, he was determined to keep her safe, even though he also wanted to use her to catch the person who was really behind it. Because he is skilled at undercover work, Ash decides that posing as her boyfriend is the best way to keep her with him. He doesn't expect to find himself enjoying the ruse far more than is wise.
I liked the fact that Claire doesn't just sit back and hide behind Ash's protection. She is determined to find out just who has set her up, and if that means pretending, she'll do it. But the longer the act goes on, the more she wishes that it was real.
I loved seeing the relationship build between Ash and Claire. He's so uptight and intense that the effect she has on him hits him really hard. He feels guilty about the danger she's in because of him, but he thinks it's the only way to save her. He's also spent so long denying that he needs anyone in his life that he has a hard time letting her in. One of the things I loved about Claire was that she had such great observation skills. She was really good at reading his moods and seeing things that bothered him. It was fun to see her call him on them, and how it sometimes made him very nervous that she seemed to know him so well. When the case was over, both had to decide what to do about their feelings. I loved the ending and seeing Ash's sweet and romantic confession of his feelings.
The suspense aspect of the book was very good. The frequent attacks kept the intensity going, as Ash and Claire tried to figure out who was really behind it all. I liked seeing Claire insist on being part of the operation. I wasn't terribly surprised by who was really trying to sell the secrets as it seemed pretty obvious to me. However, I was very surprised by who was behind the attacks. I hadn't seen that one coming at all. The final showdown was really intense, and I quite enjoyed seeing how everything turned out.
I loved the appearances of the other agents. It was fun to see Blaine and Maggie from the first book, and how Blaine could so easily see that Ash was following right in his footsteps. I also enjoyed the back and forth between Ash and Reyes, especially when Reyes caused some jealousy on Ash's part. It will be interesting to see what happens in his book, and what kind of payback he might have.