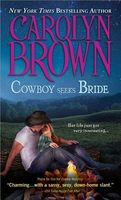 Series:
Spikes & Spurs
(Book 7)
He's Tough as Nails and Ready to Ride...
Rancher Dewar O'Donnell is just an old-fashioned cowboy at heart, and he can't wait to reenact the historic Chisholm Trail ride with his buddies. The trial-run cattle drive for a reality TV show sounds like a great time -- until H.B. McKay pulls up in her slick red sports car...
She's Way Out of Her Element...
Haley McKay is a feisty, high-powered businesswoman with the power suit and stiletto heels to prove it. She's keen to research her company's hot new idea for a reality TV show -- but mount up with a bunch of modern-day cowboys? Are they kidding?
It's too late to back out now, so Haley sets out to prove that it will take more than snakes, storms, and stampedes to make her back down.
Besides, sleeping under the stars with Dewar O'Donnell could prove mighty interesting...
I loved this book. It was a really fun one to read. The O'Donnells have been asked to run a reenactment of the Chisolm Trail cattle drive. Dewar is in charge, with a couple friends and cousins assisting. They're expecting an executive from the show to ride along, but not a city woman in a suit and high heels. Dewar starts to think he's the victim of a practical joke. Haley is of the same mind. She certainly wasn't expecting to have to saddle up and participate in the cattle drive. She's not too happy about it, but she's not going to give Dewar the satisfaction of seeing her bail out.
The first meeting between Dewar and Hayley was hilarious. Both are thinking someone's playing a joke on them until it's clear that the whole thing is real. Dewar is convinced there's no way a city woman like her will survive thirty days on the trail, and Hayley is equally determined that she will stick it out to the end. A brief pep talk from Liz, Raylen's wife (
Darn Good Cowboy Christmas
), helps her get over the first hurdle. The sparks are flying between them, and both are determined to win this battle.
I loved Dewar. He's an old fashioned cowboy who loves what he does. Taking care of ranch, horses and cattle is his life. He's reached the point where he's ready to find the right woman and settle down. Someone who likes the same lifestyle he does. He's surprised to find himself so attracted to Hayley, who isn't anything like the woman he had in mind.
Hayley was great. She's been working for her father for awhile, trying to prove herself. She was engaged to her father's right hand man, but broke it off when she realized she didn't really love him. She thinks her dad and Joel set her up on this, expecting her to fail, and she's determined to prove them wrong. She doesn't expect to be so attracted to Dewar, who in spite of his good looks, is nothing like the suit-wearing, sophisticated businessman that is her usual type.
I loved seeing the relationship build between them. It started out with antagonism, but as each day passed it started to change. It was fun to watch Hayley change from the uptight businesswoman to the cowgirl. She met each challenge with humor and determination, and Dewar and the others quickly grew to like and respect her. With each day that they spent together they found more and more in common and their attraction continued to grow. I loved seeing them try to find ways to be together without giving their relationship away to the others. One of the nicest things about this book was that they didn't play games with each other and were honest about how they felt. The biggest obstacle that they had was trying to find a way to be together after the cattle drive was over. Dewar is a rancher and Hayley still wants to continue with her career in television. Things got really interesting when Hayley went back to Dallas to make her report. Her confrontation with her father and her ex-fiance was wild, and I really enjoyed seeing her rip into them. I loved seeing how the changes she went through during the trip affected her reactions to everything she was told. The followup love and support she got from Dewar were great and I loved the solution they came up with for their future.
I loved the entire cattle drive. The descriptions of where they went and what they did were so vivid that I felt as though I was there. There were parts that were so funny I could hardly read I was laughing so hard, such as the stampede with the cattle ending up wearing hats and lingerie, and the scene with Eeyore the donkey coming into the trailer during the storm. There were sweet and romantic parts, like Dewar's comments about Hayley's beauty in the moonlight. I also loved the bits of history about the trail, especially the old "saloon" that Hayley and Dewar visited.
The secondary characters were all wonderful, each with their own personality and stories. I loved Coosie and his non-stories, and how he had a quiet way of encouraging Hayley. Buddy, with his stutter and his way of taking care of Hayley was adorable. Dewar's cousins were fun when they were teasing, though I got a little frustrated with Sawyer when he was telling Hayley that she and Dewar wouldn't suit. Finn's story was heartbreaking, though I know he ends up okay. One of my favorite characters, though she was only there at the end, was Hayley's grandmother. She was a hoot and a half, especially when she was talking to Hayley's mom.