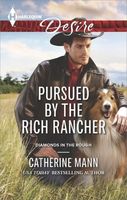 Series:
Diamonds in the Rough
(Book 2)
Single mom Nina Lowery has never understood the sex appeal of cowboys. Until she brings her son to a weeklong horse camp and meets the wealthy rancher in charge…
Seduction isn't part of Alex McNair's plan to earn his piece of his family's estate. Yet plans have a way of changing. Nina and her little boy hold the key to Alex's future. Breaking the promise he made to his dying grandmother is not an option…but neither is breaking Nina's heart.
Very good book. Nina is the single mother of an autistic son. Her life revolves around taking care of him. She is also a city girl who has never understood the appeal of cowboys, but her son is fascinated by all things horse and cowboy related. When she is offered the chance to take Cody to a weeklong horse camp for special needs kids she takes it. She meets Alex the first day there and begins to understand...
Alex's place in the family business is running the Hidden Gem ranch. He's a pretty quiet guy who prefers spending time with the horses rather than people. He notices Nina and Cody right away and is surprised by the immediate attraction he feels for her. He's looking forward to getting to know her better during the week she is there. That is, until his grandmother hits him with a request. Apparently Nina's late husband had acquired some shares of the McNair business, and Gran wants Alex to get them back from Nina.
I loved the relationship that built between Alex and Nina. Nina is very cautious because she had been burned by her husband. She had thought he was charming and romantic and wonderful, until he abandoned her and their son. Alex also seems terrific, but she's not so sure about trusting him. She's quickly won over though, by the way he so easily connects with Cody. There is also the immediate and intense attraction she feels for him. She doesn't expect anything past the week she's on the ranch, and is seriously considering having a fling with him before returning to her normal life. She's surprised by how comfortable she is with him and finds herself confiding in him about some of the fears she has about Cody's future. Finding out about his secret makes her question her judgment all over again.
I really liked Alex and how he fell so quickly for Nina. He was already intrigued by her before his grandmother told him her plans. This put him in the middle of a real problem. He wants Nina for herself, but denying his grandmother's request isn't an option either. This is something that eats at him through the whole book. I loved his pursuit of Nina and how much he wanted to take care of her. He saw how devoted she was to Cody, and that his needs always came before her own. It was really sweet to see the things he did that were just for her. It didn't take him long to figure out that he wanted Nina for always, not just the week. I also loved his connection with Cody. It was wonderful to see him treat Cody like a normal kid, while still keeping his challenges in mind. Learning abut Nina's worries about Cody's future made Alex's mission from his grandmother that much harder. He knew he was going to have to tell Nina about it, but he was really afraid that it would end their relationship before it really got started. Strangely enough, it was a talk with his father, who he has many issues with, that gives him the idea of how to make it work. I loved the ending and all the thought he put into what he gave her.
I really liked seeing more of Alex's grandmother and getting to know her a little better. Her conversation with Nina was really interesting and showed just how well she knows her grandson. I also loved getting to know Alex's sister Amie a little better. It was really sweet to see how wonderful she is with Cody. I'm really looking forward to her book.