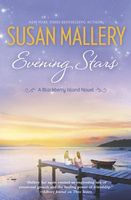 Series:
Blackberry Island
(Book 3)
Small-town nurse Nina Wentworth has made a career out of being a caretaker. More "Mom" than their mother ever was, she sacrificed medical school -- and her first love -- so her sister could break free. Which is why she isn't exactly thrilled to see Averil back on Blackberry Island, especially when Nina's life has suddenly become…complicated.
Nina unexpectedly finds herself juggling two men -- her high school sweetheart and a younger maverick pilot who also wants to claim her heart. But as fun as all this romance is, Nina has real life to deal with. Averil doesn't seem to want the great guy she's married to, and doesn't seem to be making headway writing her first book; their mom is living life just as recklessly as she always has; and Nina's starting to realize that the control she once had is slipping out of her fingers. Her hopes of getting off the island seem to be stretching further away…until her mother makes a discovery that could change everything forever.
But before Nina and Averil can reach for the stars, they have to decide what they want. Will Averil stay? Will Nina leave? And what about the men who claim to love them? Does love heal, or will finding their happy ending mean giving up all they've ever wanted?
Good story revolving around two women and the changes that come to their lives. Nina is almost thirty years old and has lived on Blackberry Island most of her life. She has spent most of her time, since she was twelve, taking care of her flaky mother and younger sister. Averil is now married and Nina's mom also has someone special in her life, but Nina is still stuck where she is. She isn't happy, but she isn't miserable either. Then some things happen that really shake up her life.
Nina's high school boyfriend comes back to the island to help with his dad's medical practice. It's been ten years since their breakup and she's pretty sure the old feelings are dead. She opens her door one day to find Kyle, the older brother (but still younger than her) of a girl she used to babysit. He had a crush on her then, and is now interested in pursuing a more adult relationship with her. Averil shows up, needing a break from her life, and the chance to actually try writing the book she keeps talking about. And mom is there, avoiding anything she doesn't want to deal with, leaving it all up to Nina to take care of.
The relationships between Nina, Averil and their mother were very complicated. Bonnie (mother) had Nina when she was just a teenager, and Averil a few years later. Bonnie never really took to mothering, leaving the responsibility to her mother, who died when Nina was twelve. Nina took control of making sure things got done, and ended up being more mother than sister to Averil. Nina had her own dreams of going to medical school, but couldn't leave her family, so she gave them up and became a nurse instead. Continuing to take care of everyone, she put Averil through school. When Averil comes home for an extended visit, there's strain between them. Averil whines and complains that Nina is bossy, but Averil doesn't take responsibility for any of her actions. Nina snipes at Averil about how she has left such a perfect life, and what is wrong with her, etc. Bonnie flits through the days, creating problems that Nina then has to fix, but getting mad at Nina for doing it.
The relationships that Nina had with the two men were also complicated. Kyle showed up and his intensity was pretty flattering to Nina. He's a few years younger, very good looking, and she is actually attracted to him. He's not going to be in the area long, and Nina figures that he's looking for a fling to pass the time. They definitely have some chemistry going on, but that really seems to be it. When he's not off flying, he comes to Nina, takes her to dinner and then to bed. There isn't much in the way of conversation, and what there is seems to be mostly centered around his flying. Dylan's reappearance is a bit more stressful at the beginning. Nina remembers what they had together, and how heartbroken she was when they split. Dylan is friendly, and once they get past dealing with their history together, their old friendships resurfaces. Dylan is there for her when she faces a couple family issues, and when she comes down with the flu he really steps up. What she didn't expect from him were some hot kisses that bring her old feelings roaring back to the surface. She isn't sure what her feelings really are for the two of them, but she's going to have to decide.
Nina's sister Averil has her own problems that she's trying to deal with. She's very much in love with her husband, likes her job writing for a magazine, and has the urge to write a book. They are also thinking about starting a family, but that has Averil suddenly starting to panic about her life. An argument with her husband has her headed home, but that has problems of its own. I thought Averil was pretty immature. She never really accepted responsibility for any of her actions. When she first arrived I thought she was pretty selfish, expecting Nina to take care of her. She also had quite an attitude problem with almost anything Nina would say to her. She did start to change pretty quickly. I liked seeing her get involved in the antique store, and how the things she did there started her looking at her life differently.
When an unexpected treasure is found it forces all of the women to look at their lives and the choices they've made in the past. I especially liked seeing Nina take her courage in hand and go after her dreams. I really enjoyed the visitor she got at the end and the result of that visit.