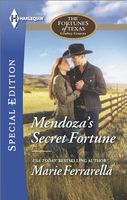 Series:
Fortunes of Texas: Cowboy Country
(Book 3)
MAY THE BEST MENDOZA WIN!
The Fortunes are not the only hotties in Texas; their longtime friends the Mendozas are legendary for their good looks and ardent hearts. Tall and dark with soulful eyes, Matteo Mendoza is a pilot whose charms have too often been eclipsed by his more outgoing brother, Cisco. Now, Matteo has set his sights on cantina hostess Rachel Robinson. Brother, look out!
After several years on a self-imposed "romance diet," Rachel finds Matteo to be a treat she just can't resist. But she's already been through her own family heartbreak -- the last thing she wants is to come between the Mendozas! Can she learn that following her heart might lead to the greatest fortune of all?
Really good book with some complicated family dynamics. Rachel grew up in Austin, in a family with money. Five years earlier she had discovered something that her father was hiding, and that made her feel her life was a lie. Rather than confronting him, she left home and hasn't been back since. She has settled in Horseback Hollow, where she is the hostess at the local cantina and has just secured an internship with the Hollow branch of the Fortune Foundation. She encounters Matteo, Cisco, and their father Orlando at the cantina one night, and is attracted to Matteo.
Orlando is trying to convince his sons to settle in Horseback Hollow, where he has recently put down his own roots. Cisco is considering it, having set up his real estate investment business there. Matteo is on the fence, as he misses the more vibrant city life of Miami. One look at Rachel, however, has him reconsidering. But before he can say anything, his flashy older brother asks her out first. All their lives Matteo and Cisco have been in competition for one thing or another, and Cisco is usually the one who comes out on top.
The two brothers are quite different. Cisco is charming, outgoing, and very much a ladies man. Matteo is quieter, and tends to think things through before acting. When the two brothers first see Rachel, she makes an impression on both. Matteo's reaction was pretty funny, as he gets so distracted by her that he can't even remember what he ordered to eat. Cisco sees his brother's interest, takes advantage of Matteo's distraction and gets his request for a date in first, capping off a lunch where Cisco was constantly needling Matteo about anything and everything. Then he has the nerve to tell Matteo he only did it to motivate him to go after Rachel himself. Matteo is rightfully angry at his brother, but at this point isn't sure what to do next.
Though Rachel goes through with her date with Cisco, there is nothing that makes her want to go out with him again. She had really been hoping that Matteo would ask her out. The next day she is talking to Matteo when Cisco calls her to ask her out again. This encounter was much better, and I loved seeing what Matteo did to secure her company for the evening. I loved what he did for their date, and it was obvious that Rachel did too. A few more encounters through her work at the Foundation and some more dates, and things are looking really good for them. Then Cisco tags along on a delivery to the Foundation, and starts in with his old tricks of trying to charm Rachel, and also making assorted digs about Matteo. These start to play into Matteo's insecurities and suddenly he's doubting himself and their relationship. At this point I was furious at Cisco and ready for Matteo to beat the snot out of him. Whether he was doing it to supposedly help Matteo or not, once he knew they were going out he should have laid off the snarky comments and interference.
Rachel was confused by Matteo's withdrawal, and had no idea what to do about it. Luckily, Matteo was smart enough to go see her and apologize for being an idiot, though he did get off to a rocky start doing it. Their making up kisses got a little out of hand, and during the night he panicked over the intensity of his feelings and sneaked away. Rachel was hurt and angry, feeling that maybe she had just been the prize in their competition after all. Having had enough family drama of her own, she's ready to write him off, until a conversation with her boss and Matteo's cousin, Wendy Mendoza, makes her willing to give him another chance. She has her own insecurities, thanks to her past, that affect her willingness to believe in her own appeal.
I really enjoyed seeing him try to explain himself, and Rachel not giving in too easily. The only thing left to deal with is the secret that Rachel has been holding back. I really liked Matteo's patience in waiting for her to be ready to share it with him. I also liked the way that he was there for her when that secret finally got to be too much for her. It is certainly a whopper of one, and the epilogue didn't really do anything to further its resolution. I suspect that we won't see much more about it until next year's series.