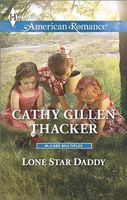 Series:
McCabe Multiples
(Book 4)
HER GAME, HIS RULES
Is Clint McCulloch really thinking of bulldozing one hundred acres of prime blackberries? Not if Rose McCabe has her way The enterprising single mother's plan will benefit the rodeo-champion-turned-rancher and her natural-food co-op. Too bad the sexy six-foot-four Texan is more stubborn--and devastatingly attractive--than when they were kids growing up in Laramie.
Clint just wants to restore his family ranch to its former glory, but the sassy entrepreneur can be awfully persuasive. Their mutual attraction is an added incentive. Until Rose lays down the ground rules: a no-strings affair because she's never, ever marrying again. Only now Clint wants the whole shebang--a future where he can be daddy to Rose's adorable preschool triplets and husband to his Lone Star cowgirl.
Good book. Rose McCabe lives next door to Clint's Double Creek Ranch, which he has recently returned to. He plans to turn it back into a cattle ranch, and intends to mow down the hundred acres of blackberry bushes and return that land to grassland. Rose is equally determined to talk him out of those plans. She intends to show him that they can be good for both of them. What neither expected was the intense mutual attraction they felt.
I really liked Clint and Rose and seeing the relationship that grew between them. Both were wary of their attraction at first, as both had had relationships go bad on them. Clint is a former rodeo star who had been engaged to a woman who ended up being far more interested in what he was than who he was. She had been intent on managing his career, and when he gave up rodeo to become a rancher she didn't want him any more. Rose had been married to a man who, when it came down to what was important to Rose, wasn't interested. When their triplets were born he decided that fatherhood wasn't for him and left her. While Clint hasn't given up the hope of finding the right woman and settling down, Rose has no intention of ever marrying again. Her kids and her business are enough for her - or so she tries to convince herself.
Clint's attraction to Rose motivated him to at least listen to what she had to say. He went along with her plans because he could see the benefits to them both. It also gave him the chance to spend more time with her and her kids. I really liked seeing the way that he and the triplets really took to each other. It wasn't long before he was picturing them as a family. Unfortunately for him, he wasn't getting anywhere trying to convince Rose. She is determined that she isn't going to let attraction lead her into making another mistake. She'll have an affair with him, but that's all.
All the time they spend together brings them closer together. But there are still issues that make a future together something of a problem. Rose thinks that everything is progressing well and that she and Clint have the same goal. And Clint hasn't really made it clear that his plans for the land haven't really changed, they've only been postponed. When the truth comes out, both feel betrayed. It takes some hard looks at what they really want and are willing to give before they can see what is really possible between them.
There were some really fun moments in the book that made what was happening between them seem like it was meant to be. I especially loved some of the interactions between Clint and the kids. His attempts to get them to eat vegetables were really funny, and I could see them happening in real life. I also loved the sweetness of seeing him read to them and play with them. Some of the attempts that Clint made to derail the publicity filming were also interesting. I could easily see why he was so frustrated, especially since none of it had been his idea. His work around was pretty smart, even if it didn't have quite the result he was looking for. I also loved seeing Rose with her sisters and the great relationships they had. They had some fun moments in their attempts to get Rose and Clint together.