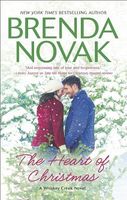 Series:
Whiskey Creek
(Book 7)
Just call her Christmas Eve…
Eve Harmon has always enjoyed Christmas, but this year it reminds her of everything she doesn't have. Almost all her friends are married now, and that's what Eve wants, too. Love. A husband and kids of her own. But the B and B she manages, and even Whiskey Creek, the small Gold Country town where she was born and raised, suddenly seem…confining.
Eve's worried that her future will simply be a reflection of her past. There's no one in the area she could even imagine as a husband -- until a handsome stranger comes to town. Eve's definitely attracted to him, and he seems to have the same reaction to her. But his darkly mysterious past could ruin Eve's happily ever after -- just when it finally seems within reach. And just when she's counting on the best Christmas of her life!
Good book. I liked seeing Eve finally get her story. Eve runs Little Mary's B&B. She's at the local bar celebrating her birthday and feeling sorry for herself. She wants what her friends have - a family of her own, but so far she hasn't found the right man. She wakes up the next morning with a handsome stranger in her bed, and only vague memories of the night. What she can remember is pretty impressive, but she's horrified by her uncharacteristic behavior. Rex is in town trying to keep his past from catching up with him. His night with Eve was amazing, but he should move on. Unfortunately for his peace of mind, he can't seem to pull himself away.
I liked Eve better in this book than I have in previous ones. In those, she frequently seemed judgmental about the decisions her friends were making, or the people they were falling for. In this book, her attitude becomes a little clearer, as she is one to worry about her friends and wants what is best for them. With her sudden attraction to Rex she begins to understand them a little better. There's something about Rex that has her wanting to get closer to him, but at the same time there is a lot of mystery surrounding him. As she gets to know him, she sees a good man who is trying to get past the mistakes he's made. All she has to do is convince him that he's worth loving.
I really liked Rex. He had a family tragedy as a teen that he continues to blame himself for. The guilt he felt then led him to make some poor choices, choices that kept building until he ended up in prison. He's been out for eight years and has made a good life for himself, but the past won't leave him be. The gang that he belonged to as a safety precaution in prison doesn't like that he has left them behind. They are determined to find him and kill him. This has added to Rex's determination to keep an emotional distance from everyone. When he found out that they had tracked him down once again, he hit the road for awhile, ending up in Whiskey Creek. His encounter with Eve filled a need in him he hadn't realized he had. He tries to keep her at a distance, but finds himself unable to resist going back to her time and again. He wants to be able to stay with her, but his fears for her safety have him convinced it's not possible.
It was great to see the various people from previous books and see how things are going for them. There's a reference in this book to something that happened in an earlier book that I still don't agree with. I'm waiting for that decision to come back and cause problems. However, I loved the support that Eve had from her friends. They are all protective of her, and while some go a bit far in their actions, they all want what is best for her. In the end, it was wonderful to see how they banded together to make it possible for Eve and Rex to be together. The solution was pretty clever. I liked the epilogue and seeing Rex take the first steps into a new future.