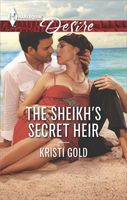 Series:
Bajul
(Book 5)
She's about to have the sheikh's baby!
Tasked with entertaining a mysterious billionaire, Bajul diplomat Kira Darzin never expects her assignment to extend to the bedroom. But one look into Tarek Azzmar's smoldering eyes and she's helpless to resist. Now her unplanned pregnancy -- and Tarek's secret identity -- threaten the royal family she holds dear…
The illegitimate son of Bajul's former king, Tarek vows revenge on the father who rejected him. And Kira is a complication he can't afford -- no matter how the sultry beauty challenges him. But when the truth about his past is revealed, will Tarek lose Kira and his unborn child for good?
Good book. Kira is the personal assistant to the king of Bajul. As part of her duties she had been assigned to take care of Tarek Azzmar on his visit to Bajul. She didn't expect the intense attraction between them, and the one night it got the better of them both. When she ends up pregnant, she doesn't know what to tell him. Tarek has made it clear that he isn't one to make a commitment to any woman.
Tarek is a man bent on revenge. When he found out that he was the illegitimate son of the former king, he was angry that his mother had been abandoned and he was never acknowledged. He has made it his goal to be wealthier and more powerful than his half brothers before revealing the truth to them. He had originally planned to use Kira for information about the royal family, but gave that up when he realized that her loyalty to them would not allow her to cooperate. He didn't expect to be so attracted to her that she would be a distraction from his purpose.
Tarek is used to getting his way and he wants Kira back in his bed. He manages to get the king to loan him Kira's services to complete the work on his new resort on Cyprus. He is intent on her seduction. Kira is reluctant to put herself at risk of giving in to him again, but spending time with Tarek will give her a chance to see if he is father material. What she finds is a man who is very complicated. I loved seeing Kira try to peel away the protective layers. He can be a very romantic man, and some of the things he does for her have her giving in to her heart. She discovers that he has great capacity for love, but considers it to be a weakness that opens one up to betrayal. Her growing love for him has her trying to make him see that money and power and revenge are no substitute for love. She fears that his reaction to her news will not go well. I liked seeing her stand up to him and stay strong for her own belief in what is important.
Tarek's desire for revenge has dominated his adult life. When Kira comes into his world her presence distracts him from his goal. Though he insists that he doesn't do long term commitments, she takes up more of his thoughts of the future than he is comfortable with. He is also a man who is very protective of his private life, though he finds it harder and harder to keep her out of it. Once he lets her in on his secrets, some of the things she says have him rethinking his beliefs. Her news stuns him and he has to decide what is more important to him. I loved seeing everything he went through as he let go of the past and opened his heart to the risks of love.
I enjoyed seeing the other Mehdi brothers and how their lives are progressing. Their interactions with wives and children were fun to see. I also liked seeing their reactions to Tarek and his news and their acceptance of him. The epilogue was fun.