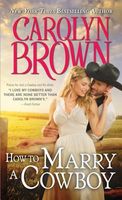 Series:
Cowboys & Brides
(Book 4)
She's running from her past
Mason Harper's daughters want a new mama in the worst way, and when a beautiful woman in a tattered wedding dress appears on their doorstep, the two little girls adopt her -- no ifs, ands, or buts about it. Mason isn't sure about taking in a complete stranger, but Lord knows he needs a nanny, and Annie Rose Boudreau stirs his heart in a long forgotten way.
And he's the perfect escape
Annie Rose is desperate, and when a tall, sexy cowboy offers her a place to stay, she can't refuse. After all, it's just for a little while. As she settles in deeper, her heart tells her both Mason and her role as makeshift mama suit her just fine. But will Mason feel the same way once her nightmare past catches up with her?
Very fun story, with a romance that is sweet with a bit of spice. Annie is on the run from an abusive ex when she ends up on Mason's front porch. There she is found by his nine year old daughters, who decide she would be the perfect mother for them. He's in desperate need of a nanny, and Annie figures she can hide out there for a few days until she decides what to do next.
I loved both Annie and Mason. She is a strong, resourceful woman who got herself out of a bad situation. I loved seeing how well she fit in on the ranch and how quickly she connected with the girls. She has a great sense of humor and has a talent for turning awkward situations into fun times. Mason is a good guy who has had a lot to deal with. He loves his girls, but they have a tendency to walk all over him.
There's an instant attraction between Mason and Annie, but both of them are wary. Annie is still dealing with the consequences from the last good looking guy she fell for. She doesn't want to repeat the mistake and get involved with someone before she has a chance to get to know him. Mason has been a widower for eight years and has had a few brief relationships, but it's Annie that has him feeling guilty about wanting to move on. I loved watching the two of them get to know each other, and realize that the attraction is too strong to fight. As they agree to see where it leads, both of them have to let go of their fears. Annie still suffers from the effects of her ex's abuse, and I loved that Mason is so sensitive to them. He has the kindness and patience to give her what she needs without pushing her past where she's comfortable. At the same time, Mason's guilty feelings sometimes cause him to pull back. I liked her understanding of his feelings and that she doesn't exhibit jealousy of the dead woman. The developing relationship isn't all sweetness and light. Each of them has their own fair share of stubbornness which causes a little head butting. Mason has a couple instances of overprotectiveness that Annie has no trouble calling him on. Some of their conversations are pretty heated, but the respect is always there and soon the love is obvious. Mason's big moment at the end was sweet and so perfect for them.
I thoroughly enjoyed Mason's daughters, Lily and Gabby. They have a reputation of being little hellions, and Mason has a terrible time keeping nannies. They were completely convinced that Mason had brought Annie home to be their mother, and nothing was going to change their minds. It was interesting to see that, as much as Mason loved them, he had a hard time getting them to behave. I loved the methods that Annie used and it was terrific to see them respond. I loved the reactions that the "new" twins got from people that knew them. Of course, it wasn't a total conversion, and I loved seeing some of the things they did. I loved seeing them stand up to the bully and piercing the ears of the cat and goats was hysterical. Even though the girls were headstrong and troublesome, sometimes they were really pretty sweet.