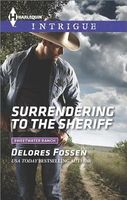 Series:
Sweetwater Ranch
(Book 7)
"Drop the gun, Sheriff."
Discovering Kendall O'Neal being held at gunpoint at his ranch isn't the homecoming sheriff Aiden Braddock expects. And now Kendall's captors are demanding he destroy evidence in an upcoming trial in exchange for the Texas attorney's life...
And the life of their unborn baby.
Three months ago, Aiden and Kendall gave in to their long-simmering attraction. Now, with a child on the way, the stakes have shot sky-high. But even after he pulls off a daring rescue, Kendall isn't safe. Before long, they find temporary haven in each other's arms--which could be even more dangerous than facing down a killer.
Good book that started with a rush and kept up the tension until the end. Aiden arrives home from work to find attorney Kendall O'Neal in his house, along with two gunmen holding her hostage. In exchange for her life, they want Aiden to destroy evidence in a murder case. Aiden isn't inclined to cooperate until he discovers that Kendall is pregnant with his baby. He knows he has to find a way out of the situation and keep Kendall safe. Even after a hair raising escape, Kendall isn't safe, and Aiden is determined to protect her.
Aiden and Kendall have known each other most of their lives. They were friends as children, until Aiden's father was murdered, presumably by Kendall's half sister. This started years of bad blood between the two families, but didn't diminish the attraction between them when they became adults. Three months earlier they gave in to that attraction, even though they knew it was a mistake. Now Kendall is pregnant and someone is trying to use that information to affect the upcoming murder trial.
The sparks between Kendall and Aiden are fierce, but both try to fight it. Aiden is stunned by the news of Kendall's pregnancy, but is determined to be a part of the baby's life. First he has to find and stop whoever is trying to harm her. He doesn't really trust anyone else to protect her as well as he can, which means keeping her with him. All that togetherness has their attraction getting even more intense. Kendall hadn't planned to tell Aiden about the baby, not wanting the tensions between the families to affect the child. Once he finds out, she's surprised by his determination to be involved. But before they can even think about that issue, they have to figure out who is behind the attacks.
I liked seeing how they got closer as they worked on discovering the attacker. Each has their own beliefs about who the murderer really is, which frequently puts them at cross purposes. Thanks to the attacks, and the reactions of their families to the news, Kendall and Aiden find themselves leaning on each other. It isn't too long before they realize that what they feel is more than just physical, and that their love is more important than anything else.
The mystery behind the attacks is one that wasn't easy to figure out. There were multiple suspects, each one having the motivation to influence how the trial goes. The attacks were intense and kept me wondering what was going to happen next, and when were they finally going to get a break in the case. Throughout the series, emotions have run hot on whether or not Jewell killed Whitt. With each book, more information comes to light, but the conclusion isn't clear yet. I'm really looking forward to the final book and getting the truth.