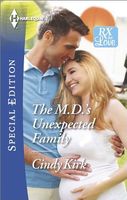 Series:
Rx for Love
(Book 13)
BIDDING ON DR. RIGHT
Salon owner Cassidy Kaye has always been determined to live life on her own terms. But when she kicks off the bidding at the Jackson Hole charity bachelor auction, she doesn't expect to win the doctor of her secret fantasies…or for her date with the single dad to lead to pregnancy!
Timothy Duggan is determined to do the right thing and marry the sassy stylist -- stat! After all, his twin daughters adore her -- and with a baby on the way, the widowed obstetrician knows making them a family is the ideal solution. But Cassidy will only marry for love -- and it's up to Tim to convince her that, pregnant or not, he can't envision a life without her…
Fun story of opposites attracting. Tim is a doctor and a single dad. His wife died several years earlier and he is determined to concentrate on raising his daughters. When he fills in for a sick colleague at a bachelor auction, he's concerned that he won't do well, since he's older than the other bachelors. He's relieved to see his friend Cassidy, where she is doing the hair and makeup for the bachelorettes. He expresses his concerns and she offers to bid herself if it's needed.
Cassidy owns a popular salon and loves what she does. She's always been determined to live her life her way. She likes Tim a lot, even had a crush on him when they were in school. She's happy to relieve his fears about the auction, and surprises herself when she decides to bid on him for real. I really liked Cassidy. She has a style all her own and isn't afraid to display it. She also has made an excellent life for herself, overcoming the issues of her childhood to do it. I loved seeing the way she also gives back to the community, trying to help kids like she had been.
I really enjoyed seeing the relationship develop between Tim and Cassidy. They seem like such different people at the start. Cassidy is fun loving and the date she takes Tim on is an eye opener for him. Once he stopped comparing Cassidy to his late wife he really relaxed and started having a good time. Both were surprised by the attraction they felt for each other. Because he doesn't plan to get involved with anyone until the girls are older, Tim tries to resist the attraction, but he can't stop thinking about how much fun he has with her, and gives in to the urge to see her again. Cassidy knows he's not interested in anything permanent, but can't resist spending time with him. At one point their attraction gets the better of their intentions, but then they back off from each other.
Then Cassidy discovers she's pregnant. She panics because she doesn't think she has the ability to be a good mother because of her background. When she tells Tim he immediately proposes marriage, because it's the right thing to do. But Cassidy doesn't want marriage without love and turns him down, though agrees that they need to get to know each other better for the sake of the baby. Tim doesn't give up on his plan to marry Cassidy, but keeps quiet about it. Instead he just insists on dating. I loved their dates and seeing how well they really suit each other. I really liked seeing how Tim liked Cassidy for who she was, and didn't think her past was a detriment. I also loved seeing him loosen up and get less concerned with appearances. Cassidy's feelings for Tim continued to grow, but she didn't think love was possible.
As they continue seeing each other, both have some issues to overcome. Tim has had little confidence in his ability to balance his work and family, thanks to the attitude of his late wife. It takes him awhile to see that Cassidy is very different. He is also fighting the disapproval of his mother, who doesn't think Cassidy is good enough for him. I loved the way that Tim always came out on Cassidy's side and made sure his mom understood that he wouldn't put up with her attitude. Cassidy's biggest fear is that she will be a terrible mother because of the example set by her own mother. I loved seeing her with Tim's girls and how terrific she was with them. She was a great counterbalance to their grandmother's uptight attitude. I really loved the things they did the afternoon she watched them, and how it showed what a great mom she could be. It was great to see how Tim's confidence in her finally showed her what she could do, I loved Tim's big moment at the end - it was absolutely perfect, and the epilogue was great!