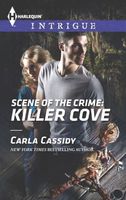 Series:
Scene of the Crime
(Book 10)
A family tragedy brings Bo McBride to his Mississippi town two years after a devastating loss made him leave. Now he's back and only Claire Silver is ready to welcome him home. The sassy blonde teacher wants his help in finding a killer who has plagued the town…
Although she could only admire him from afar, Claire was always drawn to Bo. Their unofficial investigation is complicated by the passion igniting between them. And by the obsessed stalker who has targeted Claire. With the threat escalating, Bo vows he'll do whatever it takes to protect her. And Claire vows to put her faith in the man ready to risk everything to safeguard her future.
Good book. Bo has come back to Lost Lagoon to bury his mother. He had left two years earlier after being blamed for the death of his fiancee, and has rarely been back since. He is not welcomed as most of the townspeople have not forgotten. One who does welcome him back is Claire.
Claire remembers him well from their school days. She had admired the relationship he had with his girlfriend and longed for the same for herself. She did not believe him guilty of Shelly's death. When he returns to Lost Lagoon she wants his help in finding who the real killer is. Bo isn't so sure it's possible after all this time, but he would like to clear his name, so he's willing to give it a shot.
What neither expected was the attraction that flared between them. Bo had made the decision after losing Shelly that he would not give his heart again. Wanting Claire is a complication he doesn't need or want, but he can't stop thinking about her. Claire wants him just as much, but she knows he won't stay in town much longer. As they work on the investigation they grow closer, but that very closeness puts Claire in danger. Just before Bo arrived in town, Claire began receiving little gifts and notes from a secret admirer, and now those notes are getting threatening. When she becomes the target of several attacks, Bo is determined to keep her safe. As the danger intensifies their feelings, Claire decides to accept whatever Bo can give her and hopes that it will be enough. When she realizes it isn't, and confesses her feelings, Bo has to decide if he's ready to love again.
The suspense in this book had two parts. First was the search for the person really responsible for Shelly's death. Bo had to deal with the distrust of the townspeople, and those who were convinced that he is guilty. He and Claire run into frequent dead ends, although there are hints that there had been something going on that Bo hadn't known about. But their investigation takes a back seat when Claire becomes the target of a stalker. It started fairly innocent, but after Bo's arrival things really started to escalate. There were a couple of times when they weren't sure whether an attack was because of Bo's investigation or Claire's stalker, but the truth soon became clear. The question then became one of finding out who it was. There were several possibilities and it wasn't until near the end that the culprit was revealed. I loved Claire's confidence that Bo would arrive in time to save her. While that mystery was successfully solved, I was a bit frustrated at the lack of resolution on the question of the murderer. I hope that will be addressed in the next book as there was no indication that this is a multi-book issue.