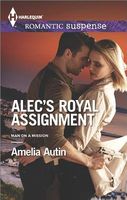 Series:
Man on a Mission
(Book 5)
Bodyguard to the queen of Zakhar, lieutenant Angelina Mateja is unwilling to risk her reputation or her job for US special agent Alec Jones--no matter how sexy and irresistible he is. Alec's been recruited by the king to root out a human trafficking ring--not get up close and personal with a stunning woman who practically radiates "touch me and die." But after sharing a mind-blowing kiss, Alec can't deny the fire simmering beneath Angel's cool exterior. As the danger--and their attraction--intensifies, Angel is forced to choose between the job of her dreams, and the man who is starting to occupy her heart...
Fantastic book with a seriously awesome heroine. Angelina is bodyguard to the queen, a position she has fought long and hard for. From the time she was a little girl she wanted more than just to be a wife and mother. She studied hard, earned a law degree, and when the new king opened the Zakharian Defense Forces to women she immediately joined. Though things have gotten better for women, Angelina still feels that Zakharian attitudes are still fifty years behind modern times.
Alec, who was one of Princess Mara's bodyguards in
MacKinnon's Royal Mission
, ran into some trouble on his last assignment. Expecting a reprimand and a less than desirable posting, instead he is assigned to become the regional security officer at the embassy in Zakhar. It is believed that the princess asked her brother, the king, to intercede on his behalf. When he arrives in Zakhar, he discovers that, while that may be the public story, in truth he has been selected by the king himself for another reason. There is a human trafficking ring operating between Zakhar and the States, and someone at the embassy is suspected of being involved. Alec's task is to help shut it down.
Alec and Angelina meet the first day that he arrives in the country and sparks immediately fly between them. I loved their encounter the next morning, when they meet while running. They spend a little time as they run getting to know each other. When Alec asks her if she worries about running alone as she does, her reply is priceless and surprising. I liked the respect that began to build between them from that point. A moment later they are locked in a mind-blowing kiss that shakes them both up.
I loved Angelina. She was strong willed and determined woman who worked hard to get where she was. Honor and duty are everything to her and she tries hard to avoid anything that would cast doubt on her ability to d her job. There are multiple scenes that show what she is up against, such as feeling she has to wait until the male security team members have spoken before she does. It is also evident in the way she is treated after the incident at the cathedral. She doesn't like it, but accepts it as the way things are. She gets a boost in confidence (and I gained even more respect for King Andre) when the king himself praises her actions and commends her in front of her male counterparts. I also liked the way he privately praised her actions and gave her advice on dealing with the effects of those actions. His praise and Alec's confidence in her also gave her the courage to ask to help with an interrogation. It was incredibly satisfying to her (and to me as a reader) to see her succeed where all the men had failed. There was one brief scene with the heads of the king's security detail that was kind of unresolved, and I would love to be a fly on the wall when they get the news that happens at the end of the book.
Alec is also fantastic. I loved his immediate connection with Angelina and his acceptance of who she is. It was great to see his reactions to the things that she feared would upset him, such as her throwing him at the beginning, and then her offer to drive on the trip to the cathedral. While he has great respect for her abilities, he can also see her vulnerability. As much as he wants to flaunt their relationship, he understands her need to keep it private. I loved the sensitivity that came through when he saw how the events at the cathedral affected her. It was also great to see that same sensitivity cause him to stand up for her when she won't do it herself.
I loved seeing the relationship grow between them. Alec has finally found a woman that understands him and who he is. He begins to dream of a future with her and is happier than he's ever been. Angelina has also started to believe in the possibility of a future with Alec. But when his investigation ends, Alec suddenly realizes that there are some obstacles to those dreams. His personal code of honor and duty have him unable to give up what he does, but asking Angelina to give up everything she has worked for is something he won't do. But instead of talking to her about it, he makes the decision to end things. I ached for him and wanted to smack him at the same time, because he was so miserable and had brought it on himself. Angelina had to take a good look at her own issues and make some decisions about her own future. I loved seeing how she worked through them, and how it brought her to a greater understanding of the kind of man Alec is. The resolution of the problem and how it came about was terrific. Once again the king showed just how great a man he is.
The suspense of the story was great and kept the tension going throughout. There were two main threads - the human trafficking that Alec was dealing with and the attack at the cathedral that Angelina was involved in. The intensity of action at the cathedral had me holding my breath until it was resolved. The investigation of who was behind it (though the reader already knows) was complicated and I really enjoyed seeing Angelina's participation. The information she uncovered linked it to Alec's investigation, and that's when things got really interesting. Angelina had another link to his investigation, and I loved seeing them work together on that. It seemed that they were just one step ahead of the bad guys until they got to the end of the search. That conclusion was incredibly emotional and I'm really looking forward to the continuation of that storyline.
*copy received in exchanged for honest review.