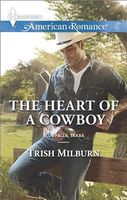 Series:
Blue Falls Texas
(Book 6)
WHAT IS SHE HIDING?
Of all the Brody boys, Garrett would have been voted most likely to settle down. But somehow, the right woman never came along. Until now. Veterinarian Natalie Todd left Blue Falls when she was a kid, but she seems to fit right in. Her old friends are there and she has a job with the local vet if she wants it. Every kiss tells Garrett she feels the same way he does. So what's holding her back?
Natalie can't say, and every kiss just makes it harder. She came back to fulfill her father's dying wish, and found a happiness even greater than she remembered. The secret she carries will destroy everything, plain and simple. That's why she can't tell him. Not yet. Maybe not ever.
Very good book. Natalie's family had left Blue Falls when she was a child and she never knew why. Life hadn't been easy, as her father was an alcoholic, leaving her mother to work two jobs to keep the family together. Now her father is dying and has confessed what caused them to leave Blue Falls. She's horrified by what he tells her, and more so when he tasks her with going to Blue Falls to deliver his confession.
Natalie is torn up about what she has to do. The Brodys were like a second family to her, and knowing what her father did has sickened her. All she wants to do is deliver her message and get out, but it doesn't work out that way. Half the family is gone, leaving her to wait and worry. As she waits, she sees old friends and remembers how much she loved living there.
Garrett is the oldest of the Brodys and the one everyone expected to settle down first. But he's seen both his siblings find love without any luck of his own. When his little sister's best friend, Natalie, comes back to Blue Falls, suddenly he's filled with hope that he's found the one. But as strong as the attraction between them is, he can see that something is stopping her from giving in.
Natalie is trying hard to keep herself separate from the town, resisting the feeling of belonging. Even the local vet, the one who inspired her, does his best to convince her to stay. She has several encounters with Garrett, and it is obvious to her that the crush she had as a kid is still going strong. When she ends up with a broken leg, it's Garrett who insists on taking care of her. Natalie falls hard for him, but she's sure that as soon as she reveals why she's there, it will be the end of what they have together. Garrett is happy to have the chance to spend so much time with Natalie. Not only is the attraction there, but she fits into his life perfectly. If only he can figure out why she keeps pulling away.
When the truth comes out, emotions run very high. I went through several tissues as both Natalie and Garrett dealt with it all. Garrett realizes that he has never truly dealt with his mother's death, and Natalie's revelations just bring all the pain back to the surface. With her father dead, Garrett finds himself unfairly placing the blame on her, refusing to listen to anything else she has to say. He has to face his own feelings before he can even think about moving forward. Natalie also has come to realize that she has to deal with her feelings of betrayal from her father's actions. Until she can forgive him and let go, there's no way she can heal her own heart. I loved seeing the help that they both got from family members to get them to see that the past is just that. The conclusion was sweet and romantic and perfect for the two of them.