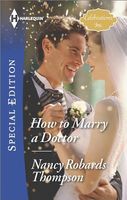 Series:
Celebrations Inc
(Book 8)
"I can find you your soul mate in five dates."
Dr. Jake Lennox took that bet from his best friend, nurse Anna Adams. And then he insisted on returning the favor. After all, he's a commitment-phobic bachelor, while Anna wants the wedding ring and the white picket fence. So why can't he find her Mr. Right while she finds him Ms. Right Now?
Now, admittedly, in small-town Celebration, Texas, the dating pool is shallow. And Anna and Jake's picks for each other are either too small or too tall, too old or too bold. Still, they're determined that by dates number five, both of them will be diving headfirst into marriage. So why do they suddenly seem to think it could be with each other?
Good story of friends to lovers. Jake and Anna have been friends all their lives, though they hadn't seen much of each other the last few years. When Anna's marriage ended he encouraged her to move back to Celebration and their friendship continued. When Jake breaks up with yet another girlfriend, Anna tells him he's dating the wrong women. She bets him she can find one that will stick around. Jake turns around and insists on finding the right one for her too.
Jake is okay with not getting serious with any woman. He lets them know up front that he's not interested in marriage. Jake's opinion of marriage is colored by the example set by his parents and he wants no part of it. On the other hand, Anna, in spite of her failed marriage, still wants a husband and children. Each of them is certain they can find the right person for the other.
It was fun to watch these two try to fix up the other while attempting to deny their own feelings. They are so comfortable with each other, yet at the beginning they don't see that they belong together. I loved seeing how everyone around them sees them as a couple, yet they deny it. Things start to change as they start noticing each other as more than friends. There's an attraction that flares up between them that surprises them both. When they act on it, things change between them. Anna is afraid that it has ruined their friendship. She's finally realized that she loves him, but knows his views on marriage. She feels that their friendship is all she can salvage and doesn't want to lose it. Jake also realizes that he loves Anna, but feels that he's no good for her because of his views. It takes an unexpected loss to open his eyes to what he is throwing away.
I loved the interactions between Jake and Anna. Their friendship was longstanding and their relationship showed it. I really had to laugh at their tradition of the SID (Sadness Intervention Dance). It was fun but also somewhat painful to see them go on their dates, wondering why they just weren't working out. I loved Jake's big moment at the end, and how he pulled it off.