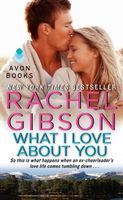 Series:
Truly Idaho
(Book 3)
GIMMEE A B-R-E-A-K!
Ex-high school cheerleader Natalie Cooper could once shake her pom-poms with the best of them. But she's paid for all that popularity -- her husband's run off with what's left of their money and a twenty-year-old bimbo named Tiffany. Leaving Natalie to manage a photo store and having to see some pictures she, well, really shouldn't.
GIMMEE A S-H-O-T!
Then she comes toe-to-manly chest with Blake Junger. Exiled to a remote cabin in Truly, Idaho, Blake wants nothing to do with anyone. Instead, he's determined to struggle with his demons and win -- all on his own. But the last thing he needs is Natalie distracting him with her luscious curves and breaking down the barriers of his heart.
GIMMEE YOUR H-E-A-R-T!
Blake is a retired navy SEAL who has just moved to Truly, Idaho. He has just come out of two months of rehab for alcoholism. He turned to booze to deal with the PTSD he refuses to admit he has. Now he's hiding out, trying to continue the fight without involving anyone else. He has quite a grouchy attitude going on when he's interrupted by the five year old girl who lives next door.
Natalie had come home to Truly five years earlier when her marriage fell apart. She had been the popular girl who married the local football hero. But her life hadn't turned out all that great, and the day after she told him she was pregnant he disappeared. Two weeks later he was found with his twenty year old girlfriend and tickets to the Caymans, then arrested and sent to prison for embezzlement. Now Natalie owns and runs a photo store and is trying to raise her daughter on her own.
Blake is feeling pretty stressed. He's out of rehab, but the craving for alcohol is just as strong as ever. But he's a tough guy and is determined to fight his demons without outside help. He's out in his yard when he's accosted by Natalie's daughter Charlotte, who is determined to make friends with Blake, whether he wants it or not. He is really quite obnoxious to the little girl, but it isn't driving her away and that really confuses Blake. He's used to getting his way. When Natalie arrives to retrieve Charlotte, Blake is immediately hit with a bad case of lust. Now the craving for booze has competition in the craving he has for Natalie. He's determined to get her into his bed.
Natalie is equally determined to stay out of it. Blake has no interest in a long term relationship. Natalie is a single mom and Charlotte comes first in her life. If and when she gets involved again, she wants a man who is going to stick around. She can't deny the attraction she feels for him, but she can do her best to resist it.
I liked the relationship that built between Blake and Natalie. Thanks to Charlotte, they are constantly being thrown together. Blake has tried to keep himself isolated from other people but finds himself being sucked into Natalie's life. It was a lot of fun to see little Charlotte worm her way past Blake's walls. She never lets his grouchy attitude keep her down for long. I loved the way that they ended up sharing custody of a puppy, throwing them together even more. Their encounters are usually a lot of fun. Blake is in full pursuit mode, and Natalie tries to resist, not wanting more heartbreak in her life. Blake soon discovers that being around Natalie makes it easier to resist other temptations, and his feelings for her start to change. But he's also convinced that he's no good for her. In his efforts to do what he thinks is best for her, he behaves pretty badly.
Natalie doesn't want to fall for Blake. She knows he's not interested in forever, but she just can't seem to stay away from him. I liked the way that she listened on those rare occasions when he opened up and didn't judge him. I also loved seeing her tell him when he was being obnoxious and not back down when he tried to push back. She worried about what was going to happen when her ex got out of prison, and I liked the way she was able to share those worries with Blake. It was fun to see that her time with Blake gave her the confidence to deal with her ex and his family. I liked the way that she had the courage to admit her feelings to Blake, and felt bad for her when he reacted as he did. I loved that she made him work for her forgiveness at the end.
There were some pretty fun moments in the book. Almost anything that had Charlotte was going to be funny, and I loved seeing her fuss at Blake when he said bad words. I also enjoyed the part where Natalie has the training of the dog while Blake is away and what she taught it to do. There were also some interesting stories about some of the things that happened at her photo shop.
Blake's twin Beau's arrival in Truly was both fun and frustrating. It was pretty funny to see Natalie's reaction, though it was hard on her until she discovered the truth. Beau certainly had some fun teasing Blake, But I really got mad at Beau for not being more supportive of Blake. His comments are what sent Blake running away. Natalie's ex was another character who added some stress to her life. There was a fair amount of buildup to his release. What he wanted wasn't really a surprise. I did start to like him a little better by the end, because I think he really had changed. I would have liked to see an epilogue with an update on how they are doing.