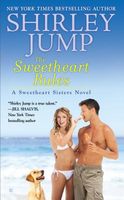 Series:
Sweetheart Sisters
(Book 2)
Rescue Bay veterinarian Diana Tuttle is a great single mom, but she has a harder time taking care of herself. Having been burned in the past by her son's noncommittal father, the last thing she wants is a man who isn't in it for the long haul--until a foolish one-night stand from her past walks back into her life.
Coast Guard Lieutenant Mike Stark has never wanted to settle down. But when his ex-wife leaves their two small children on his doorstep, he is forced to become a family man in a hurry. His return to Rescue Bay, Florida and fatherhood isn't easy, but reconnecting with Diana makes the challenge all the more worthwhile. Except becoming the long-term lover she has in mind may be one commitment too many...
Luckily, when Diana's and Mike's pasts begin to threaten their future, the Sweetheart Sisters have the perfect scheme to make this second chance last a lifetime.
Diana and Mike first appeared in
The Sweetheart Bargain
. Diana is Olivia's sister, and Mike is Luke's Coast Guard friend. In that book, Mike came to Rescue Bay to visit Luke, and spent much of that time with Diana and her son. There was intense attraction between them, but both of them were looking for different things.
In this book, Diana still has her vet practice, which keeps her busy, and is dealing with her fifteen year old son, Jackson. He's been rude and rebellious and she worries about his future. Jackson's father, who has been less than attentive all of Jackson's life, is suddenly asking for custody, something else for Diana to worry about. Having Mike show up in Rescue Bay is a distraction she really doesn't need, but he's one she can't resist.
Mike is a guy who has avoided commitments whenever possible. He tried marriage when he was younger and it didn't work out. When his ex-wife forces Mike to take care of their two daughters, he is completely overwhelmed. He brings the two girls, three year old Ellie and eight year old Jenny, to Rescue Bay, where he has the support of Luke and Olivia. Having a chance to reconnect with Diana is a bonus, but can he get past his commitment issues?
Their relationship was pretty complicated. Mike is attracted to Diana and tries to convince himself that's all it is. His childhood was rough, with an abusive stepfather, and he left home at eighteen to join the Coast Guard. The rules and schedules gave him the feeling of control that he had lacked in his life. His feelings for her grow, but he doesn't believe he has what it takes to have a permanent relationship with anyone. Part of him can't let go of what they have, but part of him tries to keep her at a distance. Diana has her own issues that have her trying to keep Mike at a distance. After years of being a single mom, she is used to depending only on herself. Sharing feelings, fears or dreams isn't something she's been able to do, and she's reluctant to open up to a man who doesn't plan to stay around.
In spite of their individual issues, Mike and Diana were really good for each other. I loved seeing how Diana helped Mike to connect with his girls, showing him how to relax his regimented attitude and go with the flow. He really did love them, but had no idea how to relate to them. At the same time, Mike was able to help Diana out with the animal shelter, and also spend some time with her teenage son. He saw things that she didn't and was able to step in to help Jackson out of some bad choices. In the end, both of them had to face their insecurities and decide if they had what it takes to make a successful life with someone else. I loved seeing how they worked it all out.
The kids were a huge part of the story and showing the issues that faced Mike and Diana. I loved Mike's girls and ached for what they had been going through. At eight years old, Jenny was so cynical, I wanted her just to have the chance to be a little girl. It was so sweet to see her and Mike connect over something as simple as watching Star Trek together. Little Ellie was adorable, once they got past the temper tantrums of the beginning. Diana's son Jackson was floundering and he didn't have any idea how to stop. It was hard to see him so angry at his mom. I felt really bad for him when his dream time with his dad didn't work out the way he expected. I loved how Mike and Diana worked everything out.
The grandmothers were pretty amusing throughout, especially Greta. It's funny to see how she thinks she's so subtle, but everyone knows what she's doing. I loved her interactions with Henry and how worked up she gets. I'm looking forward to seeing what happens with them in the next book.