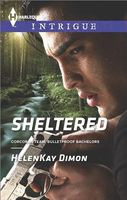 Series:
Corcoran Team: Bulletproof Bachelors
(Book 2)
She'd always preferred handling things on her own. Until a sexy undercover agent stepped in to protect her.
Strong and silent Holt Kingston has one mission: to infiltrate a dangerous cult with more firepower than faith. But when the compound's ruthless leader has a gorgeous former member in his sights, single-minded Holt won't rest until the mesmerizing Lindsey Pike is safe.
After living undercover for years helping others flee, Lindsey isn't used to someone else calling the shots. Not even someone as capable and captivating as Holt. But now someone knows she's back--and wants her captured. Maybe even killed. As the cult slowly closes in on them, Lindsey can no longer hide how much Holt's protection soothes her peace of mind. And heals her wounded heart.
Very good book that started with a rush and kept my attention throughout. Lindsey was kidnapped by her father as a child and raised in the commune in Justice, but managed to escape when she was a teenager. She changed her name, and as an adult has come back to help others escape. She has done her best to keep her activities hidden.
Holt is also undercover, but with a very different mission. He has to infiltrate the cult and see just what they are up to. It appears to be weapons trafficking, but he needs the proof. When he hears two cult members talking about kidnapping Lindsey and taking her to the leader, he knows he has to do something fast.
When he burst into Lindsey's house he only had a few minutes to convince her to play along. She's resistant until the other guys show up, but once they're gone she wants answers. This was pretty interesting to see, because Holt never breaks cover, but he tells her the truth almost immediately. It takes some effort, but he does convince her, and none too soon. People start turning up dead, and it looks like she's being set up to take the blame.
I really liked seeing Holt and Lindsey together. Lindsey is a strong and determined woman and she's not about to sit back and take orders, not matter how good Holt is at what he does. I liked the way she pushed back at him. Holt is used to being in charge and not having his orders questioned. On top of everything else, the attraction between them is intense. Holt fights his feelings hard, believing that commitment is not for him. Lindsey also fights her feelings at first, but the way he protects her gives her a sense of peace she's never had. One of the things I enjoyed was the way the two of them understood each other's fears and were able to calm them. By the time the end came, Lindsey knew how she felt, but wasn't going to ask him to stay. Holt was still fighting, until his partners Shane and Cam straightened him out (a really fun conversation!). His return to Lindsey and confession of his feelings was awkward and adorable.
The suspense of the story was really good too. From the time Holt appears at Lindsey's to the very end, there is always something going on. Some of it is physical danger and some comes from the bad guys' efforts to set Lindsey up. The final confrontation at the end is really intense and comes with a surprising twist.