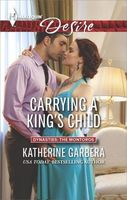 Series:
Dynasties: The Montoros
(Book 2)
Tapped to become king of his family's ancestral homeland, hotshot Miami businessman Rafe Montoro needs a break from the pressure. A night with Key West bartender Emily Fielding is just the ticket -- until weeks later, when she shows up pregnant!
Emily wants her child to know its father, though as an "unsuitable commoner," she doesn't want to block Rafe's ascent to the throne. Still, there's that unrelenting chemistry between them that won't be denied. Will Rafe have to choose between love and country after all?
Very good book. When Rafe found out that his family is being asked to resume the throne of their homeland he is put under a lot of pressure. Needing to get away for awhile, he heads to Key West, where he has a smoking hot weekend with Emily. Both are aware that's all they'll have, until Emily discovers she's pregnant.
The daughter of a single mother herself, Emily is determined that her child will know who its father is. She doesn't expect anything from Rafe, she just wants him to be aware. She has her own life and dreams and is quite used to taking care of herself.
Rafe is still reeling from the news that he's expected to give up his business and become king of a country he's never been to before. There are expectations about his behavior and his future, and a great deal of pressure from his family and others. He's not so sure that he's up to the challenge, or even that he wants it. When Emily shows up and tells him about the baby, it's one more thing that he has to make a decision about.
I loved seeing the relationship that built between Rafe and Emily. Emily knows that there is no way she can be a permanent part of Rafe's life, but they will be connected through their child forever. She's surprised when Rafe insists on getting to know her better. The chemistry between them is as hot as ever, and she's afraid that she's losing her heart to him. She's not surprised by his offer of marriage, but she's certain that it isn't truly the right thing to do. She would never be the right person to be a queen, and she doesn't want to stand in his way of being king. Rafe wants Emily and his baby in his life, and marriage is the best way to do that. He also knows that Emily isn't going to be easy to convince to take that step. I liked how well he understood her, and how he used his knowledge to try to court her. I really liked seeing how protective he was, especially when he realized that she wasn't used to anyone taking care of her.
Rafe had a lot going on as he tried to sort everything out. I was really hoping that his family would be more supportive, but they really frustrated me. His father, since he couldn't be king himself, seemed to be intent on living it through Rafe. I didn't like the way he treated Emily when he met her. Gabe seemed to be the most understanding of his dilemma, but had an agenda of his own. Rafe's sister Bella was the nicest to Emily, and the most supportive of the idea of Rafe marrying Emily. The one that really bugged me was his cousin Juan Carlos. He was constantly nagging Rafe about the things he should be doing and telling him that he wasn't doing things right. I thought he was really obnoxious, and that maybe it was jealousy that had him being such a jerk. Rafe really hated that his life seemed destined to be run by committee.
When things finally came to a head, both Rafe and Emily had to face up to their fears and feelings. There were some things said that hurt, but in the long run brought them back together. The scene in the boardroom with his family and the "committee" made my heart ache for Rafe, but also made me want to cheer for what he did. I loved the ending and look forward to seeing what the future holds for them.