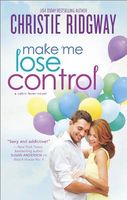 Series:
Cabin Fever
(Book 2)
As live-in tutor to a headstrong teen, Shay Walker has her hands full -- and the girl's absentee father doesn't help matters, either. All Shay wants is to let loose and indulge in a birthday fling with the hottest stranger who's ever caught her eye. But her one-night stand turns out to be Jace Jennings, her student's long-distance dad…and now he's taking up residence -- at his lakeside estate and in Shay's most secret fantasies.
Jace isn't exactly a family man, but he's determined to do his best by his daughter -- and the first step is forgetting how hot he is for her teacher. But close proximity and their heated connection keeps Shay at the forefront of his mind -- even as it's obvious she holds her heart in check. So does Jace. Until they both realize that losing control just might mean finding forever.
Very good book. It opens with Shay trying to celebrate her birthday, though her plans with a friend get stopped by a wildfire in the area. Instead, she finds herself quite attracted to another refugee from the fire and takes the opportunity for a one night fling with him, never expecting to see him again. Instead, he turns out to be the father of the teen she has been caring for over the summer. Awkward!
Jace is surprised to find the woman who has been occupying his mind living in his house. The chemistry that was there the night before is still burning hot and he tries to make things easier on himself by firing Shay. She calls him on it, and retains her job, but the pull between them is a major distraction for both of them.
Jace is there because he suddenly has custody of his fifteen year old daughter London. He hasn't seen her since she was five because her mother kept them apart. Now his ex-wife is dead and Jace has to find a way to connect with his daughter. He has zero confidence in his ability to be a good father, as his own was a cold, distant man. He wants to do what is best for her, and believes that to be getting her into a good boarding school and not taking the risk of screwing up her life. He has a great deal of trouble believing Shay's assertions that he will do fine if he'll just give himself the chance. I really hurt for him, because he wanted to be a father for London, he was just afraid to take the chance. It was fun to see him build a relationship with her. He has good instincts, even though he doesn't believe it, and I loved seeing those come out.
Jace has to depend on Shay to help him get to know London. His attraction to her is intense and he often has trouble thinking of anything but her when she's around. Thanks to his childhood and then the disaster that was his marriage, Jace believes that any kind of long term relationship is impossible for him. He doesn't think he's capable of love. He's confused about what is developing between him and Shay. The hot physical attraction he gets, but he discovers that he's thinking about more than sex when he's around her. Once he realizes that what he feels is love, he has to decide if he can open himself up to the risks.
Shay is the youngest of the Walker siblings and has always felt like an outsider in her own family. She is the product of an affair that her mom had while married and that has caused Shay to feel that she doesn't really belong. It doesn't matter that her siblings have never felt that way. She loves her family and will do anything for them. But she also protects her heart, fearful of losing those she may come to care for. In previous jobs she has always been able to maintain an emotional distance, but something about London has worked its way into her heart. She's horrified by Jace's plans to send London to school. I loved watching her try to help the two of them connect. In the meantime, her own relationship with Jace is changing. She tried to keep it just physical, but instead she fell hard for him. She also has to decide if she can open herself up to taking a chance with him.
I loved London. She has the fifteen year old attitudes, along with an amazing intelligence and a huge store of self reliance. Her life with her mom hadn't been easy. Mom was quite self centered and tended to go off on her own plans, leaving London in the care of the housekeeper. Along with never seeing her dad, it leaves her feeling unloved. At the beginning of the book she has a tough shell that she uses to hide her vulnerability. A crush on a boy, the steady caring by Shay, and her dad's arrival start a slow transformation. She's cautious and prickly around Jace at the beginning, but she really wants to believe he's there to stay. His plans create a crisis between them, but I loved seeing the way that they ended up working it out.
In the end, all three had to allow themselves to trust their own feelings and those of the others. I loved seeing that happen and the epilogue was fantastic.