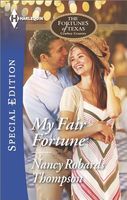 Series:
Fortunes of Texas: Cowboy Country
(Book 5)
UNBUTTONING THE BRIT…
In the business world, Brodie Fortune Hayes is known as a man of no mercy. The all-work, no-play PR consultant is sure he'll have no trouble correcting the image problems plaguing the Cowboy Country theme park. There's just one complication: the green-eyed beauty sitting behind the boss's desk who makes his pulse race like a roller coaster!
Caitlyn Moore never imagined working side by side with Brodie after sharing a most out-of-character night of passion with him a few months before! And now, thanks to her dad's absence-by-illness, she's his boss? Brodie's bottom-line mentality is as infuriating as his blue bedroom eyes are intoxicating -- but Cait is convinced that there's a heart lurking beneath his designer armor. Perhaps she can prove to him that love is the greatest Fortune of all…
Very good book. Cait is the daughter of Alden Moore, the owner of the new Cowboy Country theme park. That theme park isn't popular with the people of Horseback Hollow, especially the Fortune family. When her parents are invited to the big quadruple wedding in February, Cait attends in their place. There she meets "Brodie the Brit", who she is immediately attracted to. Though they only exchange first names, they have an intense encounter, and part ways, never expecting to see each other again.
Fast forward a few months. Cait's father has had a heart attack and she is filling in for him during the final push to the park opening. She has had trouble with getting her father to see what she is capable of, and she looks at this as a chance to show him. There are some major problems and some doubt as to whether it will open on time. Cait is determined that it will, but it isn't going well. Her father tells her that he has hired a consultant to whip things into shape. She's not happy, but she doesn't really have a choice. When the consultant turns out to be her wedding fling, she's horrified, but she's going to have to find a way to work with him.
Brodie Fortune Hayes is known for his hard nosed, bottom line attitude. He's stunned to find the woman he hasn't been able to forget sitting in the boss's place at his new job. He knows what needs to be done to get things moving and he can't let himself get distracted by Cait.
There were some serious sparks between them from the beginning. Their encounter at the wedding was seriously hot, but both were behaving out of character. Now they have to find a way to work together, which isn't going to be easy. Besides the attraction, which is as strong as it was before, both have entirely different leadership styles. Even though she's more used to working with animals than people, Cait looks for the best in people and believes they will live up to those expectations. Brodie tends to get his way using threats and intimidation. I loved seeing Cait stand up to Brodie when he would get all high handed. I liked seeing how Cait's influence started to change the way Brodie did things.
They also got closer emotionally, though this was a much more volatile thing. Brodie has things in his past that have made him reluctant to give in to any emotion. This has given him the reputation of being heartless, but Cait can see that he simply protects that heart. She starts to feel she's making some progress with him when things start to go bad at Cowboy Country. Once again their differing styles create conflict between them, and Brodie pulls back, feeling that he's let emotions interfere with doing business. When disaster strikes, Brodie realizes the mistakes he's made, and has to find a way to make things right. I loved seeing him find his way back to Cait and his family. His actions at the end were great. I especially liked the way that he made sure her father knew that none of it was Cait's fault. This went a long way toward settling the issues that Cait had with her father.