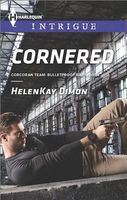 Series:
Corcoran Team: Bulletproof Bachelors
(Book 1)
It was an assignment he was more than prepared for -- until an innocent beauty got caught in the cross fire
Undercover agent Cameron Roth's hot on the trail of a drug-running crime cartel. The last thing he needs is to involve an innocent woman in the cross fire. But when he leaps into Julia White's home for safety, she becomes part of the tangled web Cam's trying so desperately to unravel. Smooth, solid Cam's the consummate professional. But gorgeous, feisty Julia transforms the high-stakes assignment into something far more than business as usual. Now that the villains have her in their sights, Cam's got to not only solve the case -- but also protect the only woman who's ever found the way into his heart.
I have thoroughly enjoyed the previous
Corcoran Team
books, and this one was just as good. It was action packed from the first page. Cameron and his two team members are on the island to find and question a witness to the drug runners working there. Unfortunately, with the probability of a corrupt police department, they are on their own.
Julia is in the middle of dealing with her late father's property when she hears gunshots. As she rushes to get indoors she is overtaken by Cam, and suddenly becomes part of the action. Though she doesn't trust easily, something tells her that Cam is okay. He saves her from the people who are after him. He wants to get her off the island and to safety, but she feels safer with him. She also uses her knowledge of the island and its people to convince him to keep her around.
Cam isn't sure he's doing the right thing, but he's never had a woman get under his skin so fast. He's impressed with her ability to remain calm under the most stressful of circumstances. The biggest problem he has with it is the chemistry between them that is creating one big distraction.
I really loved seeing these two together. Both have trust issues, Julia because of her life with her drunk of a father, and Cam because of having grown up in the foster system. The intensity of their situation has them getting closer very quickly. It was a lot of fun to see Cam try to talk her into going someplace safe, and Julia having none of it. Even the couple times he tried to sneak off were unsuccessful. Because of their own issues, each was more understanding of where the other's attitude was coming from. Neither was looking for any kind of relationship either, but it quickly became clear that something was happening between them. It was fun to see Julia as she showed Cam that she wasn't pushing for anything more than he was willing to give, making it easier for him to actually consider what it was he really wanted. When everything went down at the end, I liked the way that Cam was so worried about Julia and what her reaction would be. I liked the fact that they didn't rush too fast into a permanent relationship, but were planning a slower growth to what they had. I loved seeing how his two teammates gave him a bit of a hard time about what was happening, but were also supportive. The last chapter with those two was especially amusing. I'm really looking forward to their stories.
The suspense part of the story was really good. The action began on the first page and never really let up. It seemed as though Cam and Julia were barely one step ahead of the bad guys at any time. One of the leaders was identified early on, and seeing the action from his viewpoint sometimes had me wondering how he was still alive. He had a habit of underestimating just what Cam was capable of doing. There were also several instances when I wondered just how Cam and Julia were going to get out of the particular situation they were in. The person who was running the whole operation took me a little longer to figure out, but not by too much. I really enjoyed seeing Cam and Julia outwit him, especially at the end, when his ego really had him making some boneheaded decisions.