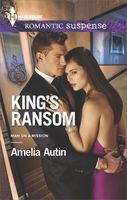 Series:
Man on a Mission
(Book 4)
Reunion with the king turns forbidden…and dangerous
Internationally renowned actress Juliana Richardson should be concentrating on the role of a lifetime, not on the man who broke her heart years earlier. Yet King Andre Alexei IV is no longer a young prince-in-training -- he's an undeniably sexy monarch with seduction on his mind. Juliana's heart is at risk, but after a series of deadly coincidences, it becomes clear her life is on the line, too.
Andre vows to protect the stubborn star even as she pushes him away. But as the threat to Juliana's life grows more intense, Andre must choose between saving the vulnerable beauty or letting her go forever…
Very good book. This is the story of Andre, Mara's brother from
McKinnon's Royal Mission,
and Julianna, her best friend from when she was a teenager. Many years earlier, when Julianna was a teenager, her father had been ambassador to Zakhar. She and Mara were best friends and tended to trail after her older brother Andre, who treated them both kindly. Julianna developed a crush on Andre that later turned to love. Andre had felt the same way, but being older knew that he had to control himself until she was old enough to be sure. The night before she left for college, she went to him, but after she left she never heard from him again, except for one very insulting and heartbreaking note. Julianna went on to become a well known actress.
She is offered the chance to play Eleonora, queen to the first King Andre of Zakhar, and really wants to do it. Theirs is a love story for the ages. But when she finds out that it will be filmed on location, in the palace itself, she is very reluctant to go. She knows that there will be no way to avoid seeing Andre again, but she's determined that she won't let him get to her this time.
Andre is now King of Zakhar. He has never forgotten Julianna and worked hard to get her back to Zakhar. He is still in love with her, even though she had refused all contact with him when she had left years earlier. He is determined to show her how much he loves her and convince her to stay. I loved his conviction that she was the only one for him and how it had influenced his life from the time he met her.
I loved Andre and Julianna. The sparks flew between them as soon as they met again. Julianna feels it immediately but refuses to let him know it. She is trying desperately to protect her heart from being broken again. Her battle is obvious, but she doesn't want to give in, worried that if she does he will simply walk away from her again. Andre is determined to win her heart. He knows that the flames of their passion are still there, and that he could use them to seduce her. But he wants her heart, and for her to come to him by her own desire. He does have some trouble sticking to his plan, and there are a few times that his emotions overcome his common sense. His bouts of jealousy are pretty revealing. Julianna tries to keep him at a distance, but the more often they encounter each other, the more she sees of the man she loved. These things are in direct opposition to the one who broke her heart so badly and she starts to wonder which is the real Andre. I loved the scenes with the landslide, which were both heartbreaking and heartwarming. It also finished breaking down the walls around Julianna's heart. The intensity of their feelings is never in doubt, the only question being how long it will take for them to overcome their pasts.
The suspense of the story is very good. It is revealed that there is someone who has it in for Andre and this person has no problem taking out Julianna also. Andre is accustomed to the danger he faces as king, but is determined to keep Julianna safe. The intensity of the danger increases as the culprit appears to become more desperate. Each bit of information uncovered had me trying to decide who it was. The twists and turns to get to the conclusion kept me wondering for quite awhile. The final confrontation was definitely intense as was the danger to both Andre and Julianna. There is a link back to a character from previous books and I am interested to see if that is pursued in later books.
I loved the background story of Andre's ancestors. Each part of their story that was revealed had a parallel in the modern characters' lives. The filming of the movie also gave Julianna more insight into what has made Andre the man he is today.

*copy received in exchange for honest review.